Add a header to begin generating the table of contents
Sorare NBA: Complete guide to the fantasy basketball game
Sorare NBA has created worldwide buzz among basketball fans. But what makes this new fantasy game so special? In this guide, we explain what exactly Sorare NBA is, how the game works and how you can get your hands on an exclusive bonus card.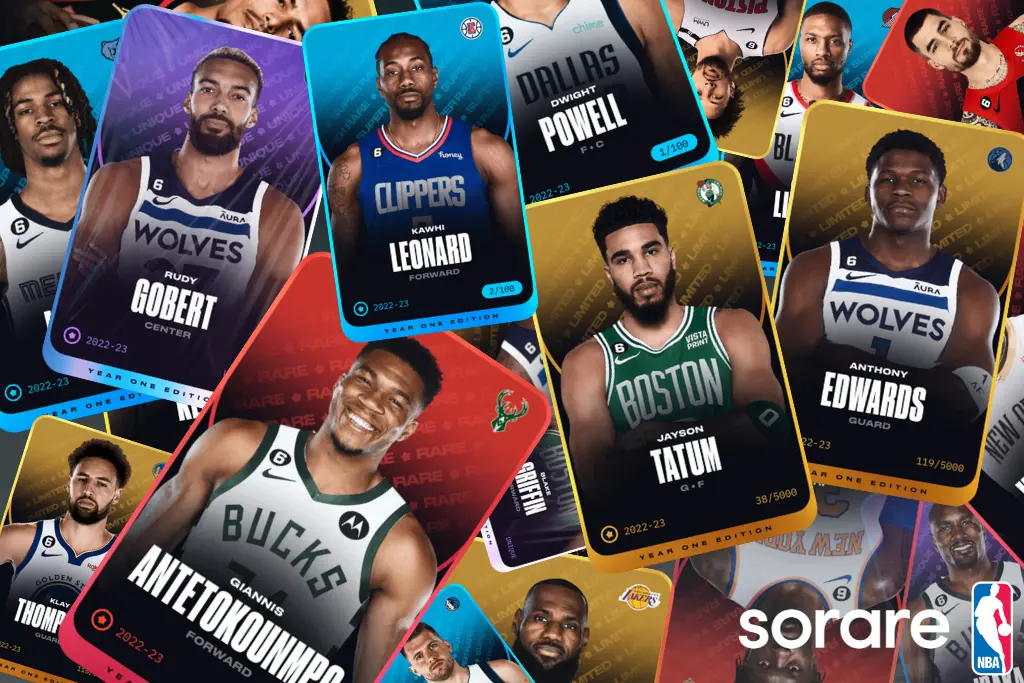 Add a header to begin generating the table of contents
What is Sorare NBA?
Sorare NBA is a hybrid of fantasy sports and digital trading card game. Using trading cards of NBA basketball stars, collectors create lineups twice a week and compete against other players online to win prizes. Thus, Sorare NBA works very similarly to other fantasy basketball games. The better the performance of your players in real life, the better your performance in the fantasy game.
In contrast to ordinary fantasy leagues, DFS or video games such as NBA 2K, you do, however, truly own your cards, as ownership is verified on the blockchain using non-fungible tokens (NFTs). No need to worry, though, you don't need to know anything about the technology – all that just happens behind the scenes. Of course, the game is officially licensed by the NBA, so that all the superstars like LeBron James are included and can be collected.
Is Sorare NBA free-to-play?
Yes, Sorare NBA can be played for free indefinitely. Upon registration, you receive 20 common cards, which you can use to start playing in the two tournaments "Common Champion" and "Common Contender". While the common cards themselves cannot be resold, in the free-to-play tournaments you can win valuable cards that you can then resell for real money.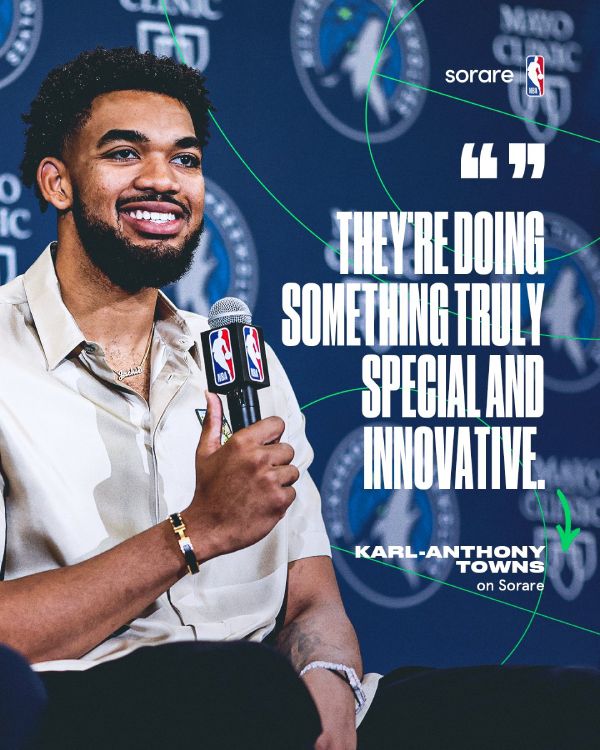 To participate in more tournaments (and thus increase chances of winning), player cards of higher scarcity levels can also be purchased on the transfer market. Prices depend mainly on player and scarcity. For example, the cheapest limited cards of rookies or bench players cost less than $2. For a limited card of a franchise player like Luka Dončić, naturally, one has to pay considerably more.
How to get a free bonus card
As a first-time player, you have the opportunity to obtain a random limited card for free! All you have to do is sign up for Sorare NBA via a so-called referral link. You can either ask a friend who already plays Sorare NBA to send you an invite or you can simply use our link to sign up. After getting your fifth player card, you will immediately receive your free bonus card.
Note: If you register without a referral link, you will not receive a free limited card. Unfortunately, this cannot be made up for at a later date. By using our link, you will also help us to continue publishing high quality Sorare guides for free.
Our Sorare NBA review and experience
Sorare is a French company that has already been running the well-known Sorare fantasy football (soccer) game since 2019. We have been playing Sorare football actively since the beginning of 2021 – together with over a hundred thousand other managers. As we have also been playing Sorare NBA since the very first game week, we have a fairly good understanding of whether the newer Sorare basketball game and the company behind it are to be recommended.
First of all, it should be pointed out that Sorare is a 100% legitimate enterprise. The French company has the official license of the NBA, collaborates with well-known players such as Rudy Gobert and Blake Griffin and has secured more than $680 million from investors in 2021 (Financial Times).

The fantasy game itself is highly addictive (in a good way). Twice a week we assemble our lineups and try to find the optimal starting five. Of course, the best way to do that is to take into account a lot of factors, such as the players' form curve, matchups, card prices, injuries, and so on and so forth. Since playing Sorare NBA, we follow the real NBA games even more eagerly. After all, we now get valuable points if one of our own players drains a three-pointer, for example.
If you are motivated, you can devote a great deal of time to the game and accordingly (and with a bit of luck) win big in the tournaments. In our experience, Sorare NBA provides just the right mix of strategy and chance to make it exciting in the long run. However, we think Sorare NBA is also suitable for casual players, as the beginners' tournaments are free of charge and lineups can be created in less than five minutes.
To conclude our Sorare NBA review, we can safely say that our Sorare NBA experiences have been entirely positive. Nevertheless, since tastes differ, we recommend that you simply give the free-to-play fantasy game a try yourself.
Types of cards
There are a total of 5 different scarcity levels: common, limited, rare, super rare and unique.
Common
Grey
20 random commons are provided for free upon registration
More commons can be won in tournaments
Commons cannot be exchanged, bought or sold
Common
20 random commons are provided for free upon registration
More commons can be won in tournaments
Commons cannot be exchanged, bought or sold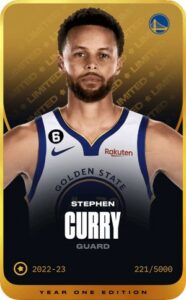 Limited
Yellow
5000 prints per season
Bonus: 0%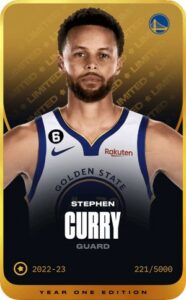 Limited
5000 prints per season
Bonus: 0%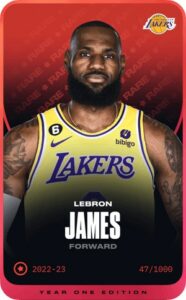 Rare
Red
1000 prints per season
Bonus: 10%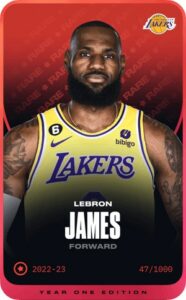 Rare
1000 prints per season
Bonus: 10%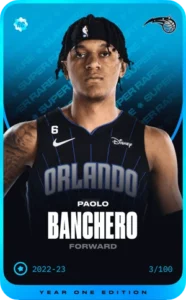 Super Rare
Blue
100 prints per season
Bonus: 20%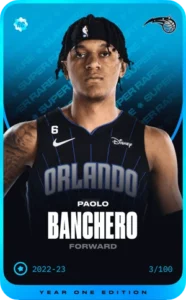 Super Rare
100 prints per season
Bonus: 20%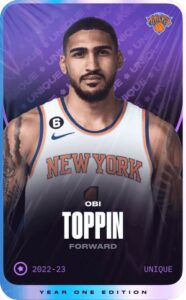 Unique
Purple
1 print per season
Bonus: 40%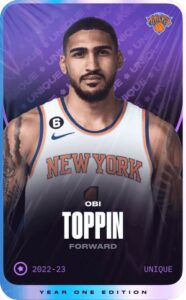 Unique
1 print per season
Bonus: 40%
Each card has a serial number (bottom right) that is only issued once per season. Consequently, each card is unique and can be linked to its owner. For example, there is only one Paolo Banchero 2022-23 super rare card with the serial number 3.
The cards can, by the way, also be used after the end of the current season (or as long as the player is active in the NBA). This is a clear advantage over games like NBA 2K MyTEAM, where many gamers invest money, but are ultimately never the "real owner" of a specific card – which ultimately also becomes worthless at the end of the season.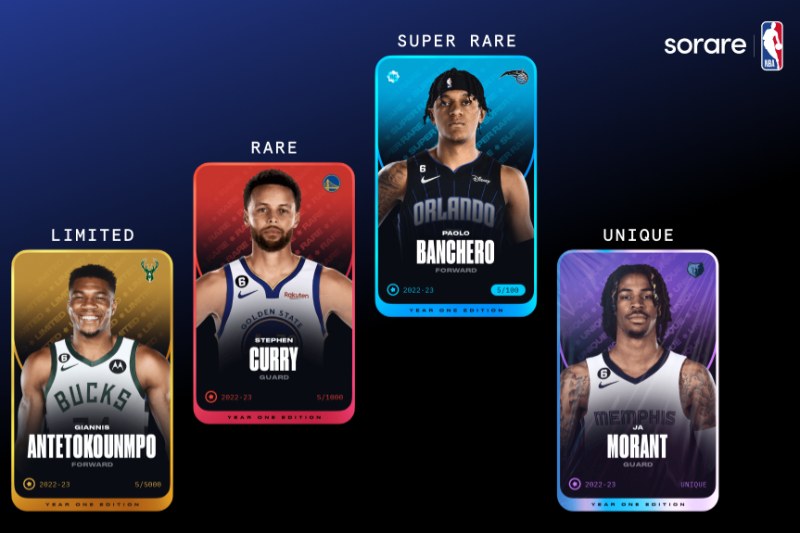 On a side note, cards with serial number 1 or with a 'jersey match' serial are usually somewhat more coveted, since they stand out visually. However, they offer no in-game advantage other than the added collectible value. The same also applies to cards with the 'rookie badge'. From our personal experience, serials really do not matter much in Sorare – a clear difference to traditional trading cards or other NFT-based collectibles such as NBA Top Shot.
How to play Sorare NBA
Lineup and MVP
A team in Sorare NBA always consists of precisely five players. Yet it does not matter which position your players have, so theoretically you could also play a five-guard small ball line-up à la 19-20 Houston Rockets.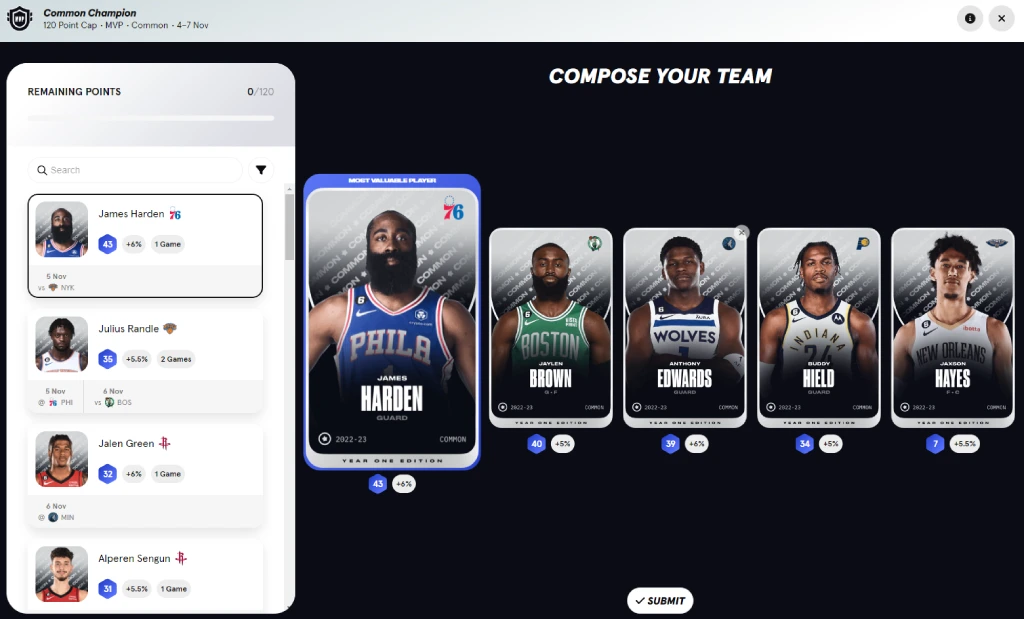 Important to note: Each player has a ten game average score, sometimes also referred to as L10. As the name suggests, this is the average (fantasy) score that a player has achieved in the last ten games. This score plays a key role in the composition of your lineup, because on the one hand you want to draft as good players as possible, but on the other hand you have to consider the so-called points cap. The points cap is the maximum number of points that the players in your lineup may have in total.
The points cap differs depending on the tournament and is for example 110 points in the Common Contender tournament. So if you field a player with a 50-point average there, you only have 60 points left for your remaining four players in the lineup.
The MVP rule is a special rule that is used in all Champion Tournaments on Sorare NBA. The most valuable player (MVP) of your team is the player who has the highest average score (automatically assigned when you put your lineup together). The MVP's points do not count towards the points cap – so you can line up an absolute superstar without having to worry about the points cap.
XP: card level and bonus
When a player is lined up or used in training, he collects XP (experience points). Thereby a higher card level can be reached (between 0 and 20), which gives the card a point bonus of 0.5% per level. Furthermore, the cards also get an additional point bonus depending on their rarity level (see above).
Scoring system
Sorare NBA is based on a typical fantasy basketball scoring system, where events on the basketball court are immediately translated into points for your team. The sum of the individual scores of your players results in the overall score of your team.
Note: Within a gameweek, players sometimes have several games. However, only the highest score achieved counts and other lower scores are not included in the team score.
The specific score calculation is shown in this table:
| Category | Fantasy points |
| --- | --- |
| Point |  1   |
| Rebound |  1.2 |
| Assist |  1.5 |
| Block |  3   |
| Steal |  3   |
| Turnover | -2   |
| Made 3PT FG |  1   |
| Double Double |  1   |
| Triple Double |  1   |
Tournaments and Rewards
The tournaments in Sorare NBA mainly differ by the scarcity level of the cards allowed to use and by the possible prizes. To make the game as fair as possible, for example, you can only use limited cards in the limited contender tournament. Rare cards, which have a point bonus of 10%, are not allowed in this tournament. This rule means that even players with a comparatively small budget can successfully compete for rewards.
Besides the classification according to scarcity, there are also two different tournament categories: contender and champion. In contender tournaments there are more prizes to be won than in champion tournaments, but the rewards all have the same scarcity level. So in rare contender, you can only win rare cards as rewards.
In the champion tournaments, there are slightly fewer prizes overall, but you can also win cards from the next higher scarcity level. So in rare champion, if you perform well, you can also win super rare cards.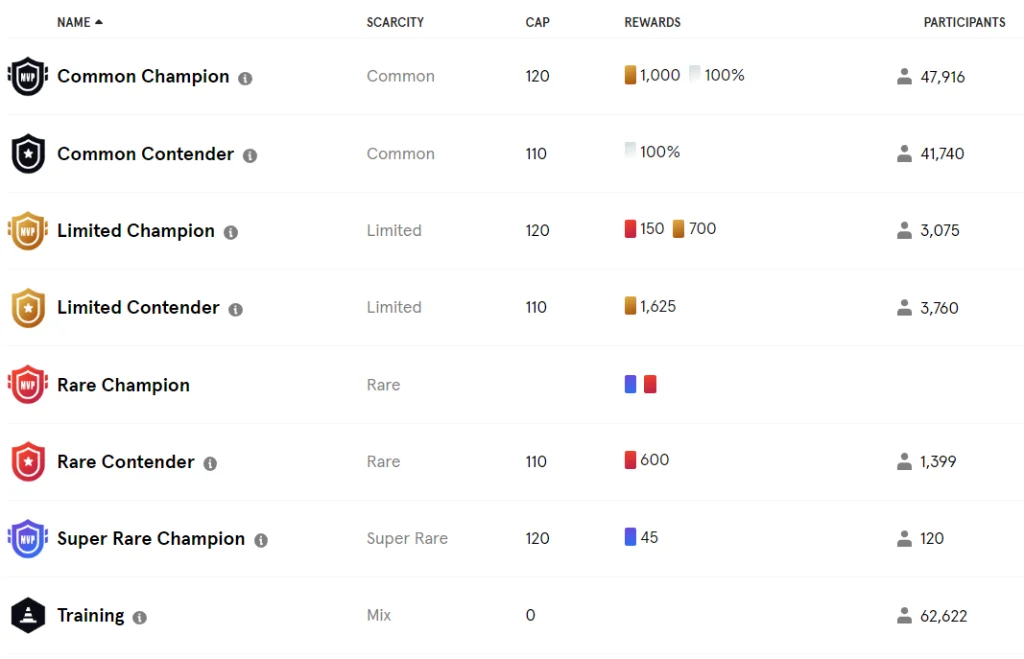 By the way, the rewards are ranked in different tiers. The better your team's ranking, the better the reward you receive at the end of the gameweek. With an excellent performance, you can therefore win a tier 1 player like Jayson Tatum. A placement in the midfield, on the other hand, will at best only earn you a role player.
Buying cards
Sorare NBA Cards can be purchased in three ways: Via manager sales, direct offers or through new card auctions.
Manager sales are the secondary market of Sorare. Managers can offer their cards for sale at a fixed price and thus convert their tournament winnings into cash. Direct offers are an alternative to this: If you want a specific card, you can send a direct offer to the owner. Such an offer can include both money and the exchange of cards.
Finally, cards can also be purchased through auctions (older readers may still remember how eBay works). Here one bids against other users on auctions that expire at a certain time. Whoever wins the auction receives the purchased card hot off the press, so to speak, delivered directly from Sorare.
For now, we wish you lots of fun and success with Sorare NBA!
Mats is co-founder of inside NFTs. He studied business administration in Mannheim (Germany), Lisbon (Portugal) and Auckland (New Zealand). In early 2021, he began his journey through the world of non-fungible tokens via NBA Top Shot. Ever since, he has established himself as part of the German-speaking NFT community and covers the latest web3 trends with great enthusiasm.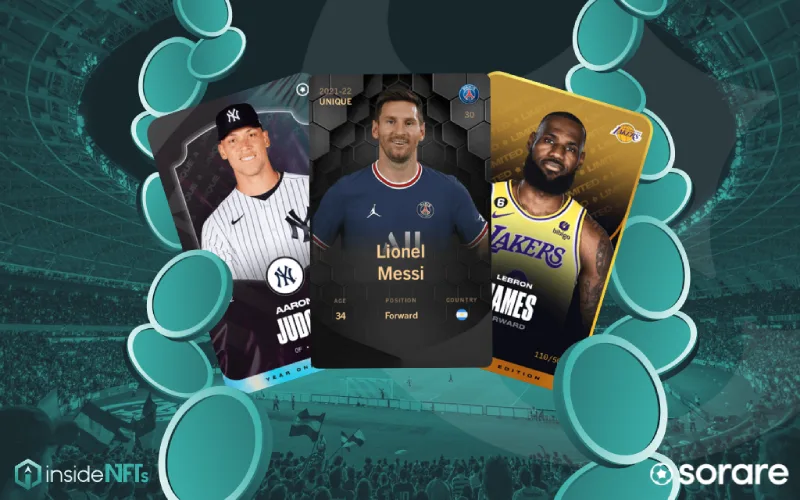 Discover the most mindblowing Sorare facts and figures! Number of users, most expensive card, and much more…