Add a header to begin generating the table of contents
Sorare statistics, facts, and figures
Did you know that Sorare has more than 3 million registered users? Or that the French company has raised more than $700 million in venture capital? And which football card was minted first? For this article, we have aggregated the most interesting facts, figures, and statistics about Sorare.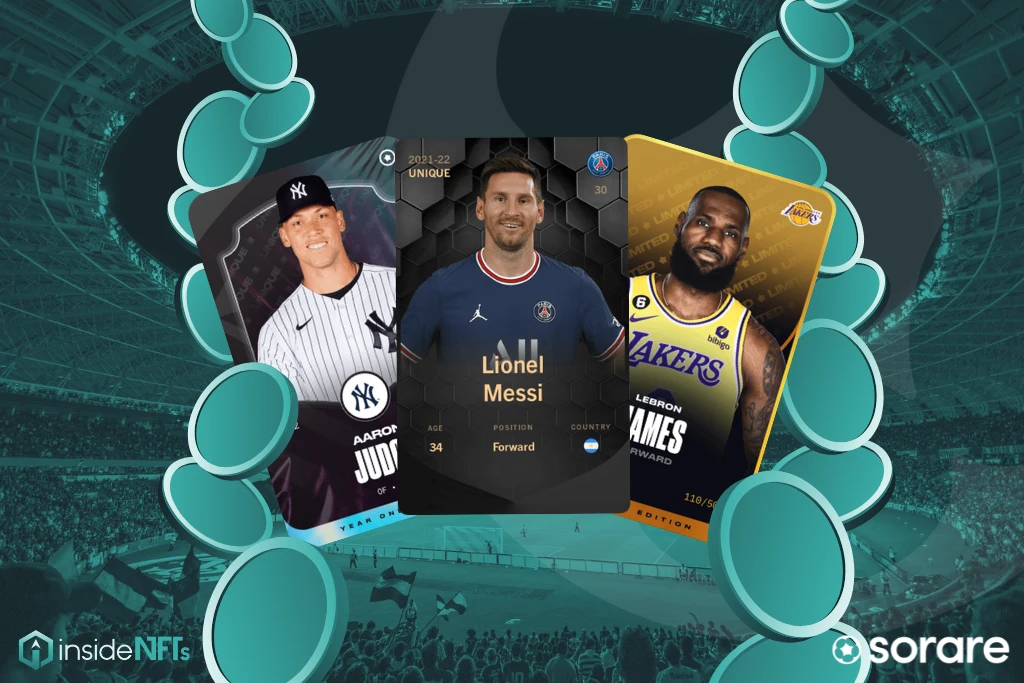 Add a header to begin generating the table of contents
We have played the fantasy game Sorare and written Sorare guides since the beginning of 2021. As provider of the tracking tool prorare as well as one of the largest German Sorare communities, we have discovered and researched a multitude of exciting Sorare statistics. We hope that you enjoy this collection of Sorare facts and figures!
Facts and figures about the Sorare fantasy football game
What is the most expensive Sorare football card?
The most expensive card sold on Sorare is Erling Haaland Unique from 2021-22. It was bought by manager Zima Blue on January 30, 2022 for a whopping 265.1 ETH. This is equivalent to (at that time's exchange rate) €609,513 or £507,362 or $678,680. A pretty mindblowing Sorare statistic!
Further information can be found in this list of the ten most expensive cards ever sold on Sorare.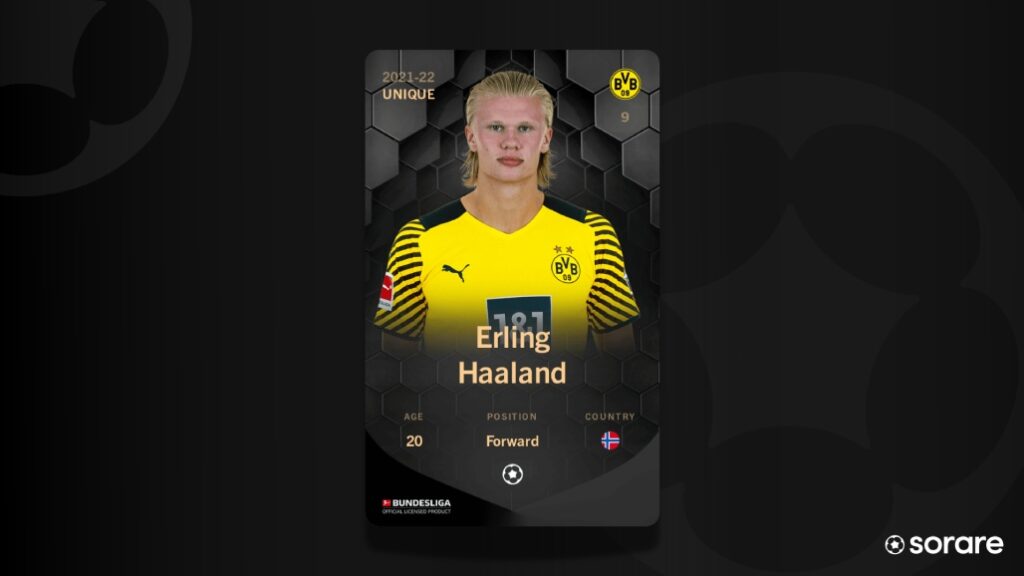 How many users does Sorare have?
The latest official user number that Sorare has published (in December 2022) is 3 million registered users and 260,000 monthly active users (MAU) across 180 countries. However, company insiders estimate that Sorare on average had more than 200,000 daily active users in Q2 2022 (source: Deutsche Startups podcast).
It should nevertheless be noted that Sorare can either be played entirely for free or with (paid) blockchain cards. In order to play in the more advanced competitions at least five blockchain cards are required. November 2022 figures from soraredata.com therefore suggest that Sorare has ~110,000 users who participate in paid competitions and ~35,000 extremely engaged users (owning 25 or more cards).
How high is the total transaction volume on Sorare?
Since its launch in April 2019, the total sales volume on Sorare amounts to 225,489 ETH (equivalent to more than $469 million). Another impressive Sorare statistic is the number of unique buyers: According to data from Cryptoslam, Sorare had 40,100 unique buyers in November 2022.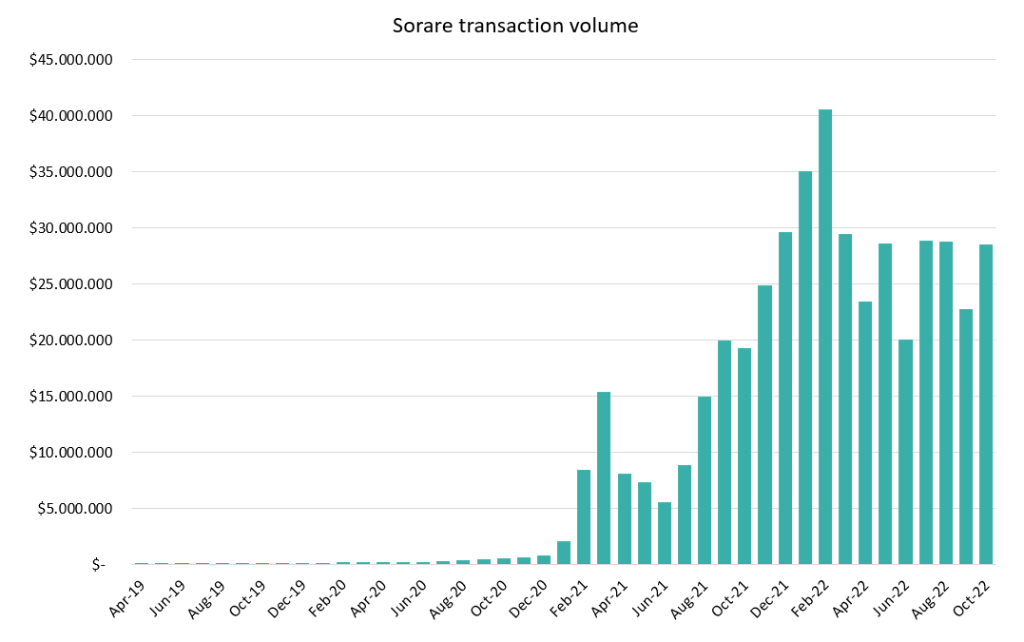 Which sports are available on Sorare?
Sorare features football (or soccer, as Americans say…), basketball, and baseball. While football has been around since 2019, the MLB and NBA were added in 2022.
How many clubs and leagues are covered in Sorare?
Sorare has 314 officially licensed football clubs, from A (Aalborg BK) to Z (Zenit St. Petersburg). Moreover, Sorare covers 50 football leagues and competitions, including Bundesliga, Ligue 1, Premier League, UEFA Champions League and the World Cup.
In addition, Sorare also has official license agreements with the NBA (basketball) and its 30 franchises and the MLB (baseball) and its 30 franchises.
How many different football competitions are there on Sorare?
Currently, there are 46 different football competitions that Sorare managers can participate in. While some competitions like Common Champion have more than 100,000 participants, there also are exclusive competitions like Unique Champion Europe, that are played by only a few dozen managers. In general, the amount of Sorare players per competition usually is in the four- to five-digit range.
Your exclusive sign-up bonus
If you don't have a Sorare account yet, you should definitely take advantage of our exclusive sign-up bonus: With your fifth new signing from the transfer market, you will receive an extra Limited card as a gift, which you can either collect, sell or use in the various tournaments.
Sorare as company: numbers, financials and key facts
When was Sorare founded?
Sorare was founded as Sorare SAS in September 2018 in Paris, France.
Who are the Sorare founders?
Sorare was founded by Nicolas Julia (CEO) and Adrien Montfort (CTO). The two Frenchmen knew each other from their previous jobs at blockchain company Stratumn.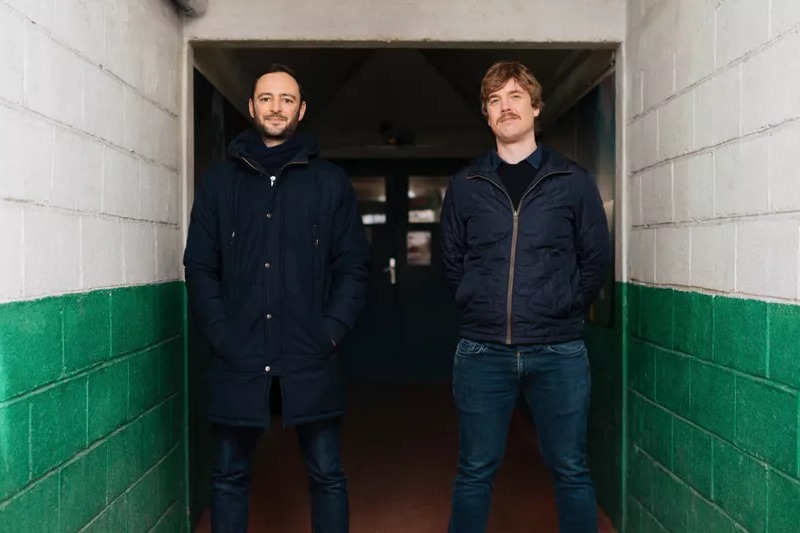 How much money has Sorare raised in funding?
Since 2019, Sorare has raised a total of $739 million in four financing rounds.
In May 2019 Sorare raised a pre-seed round of over half a million euros. The investors included venture capital funds Seedcamp, Kima Ventures, Tiny VC, ConsenSys Ventures and various business angels including Thomas France (co-founder of Ledger) and Chris Hitchen.
The seed round financing of $4 million was announced in July 2020 and was led by the VC fund Headline. Several other investors also participated, including Partech, Fabric Ventures, Semantic Ventures, Cygni Capital, and former football player André Schürrle. The seed round was extended with an additional funding of $4.3 million by the Cassius Family fund and football player Gerard Piqué in December 2020.
In February 2021 Sorare then raised $50 million in Series A financing. This investment round was led by venture capital fund Benchmark. Additional funding was provided by Accel and multiple business angels including Alexis Ohanian (co-founder Reddit), Gary Vaynerchuk, Antoine Griezmann, Oliver Bierhoff, and Rio Ferdinand.
Shortly thereafter, in September 2021, Sorare completed its Series B financing round. The French startup raised $680 million, with the main share of the investment coming from the Softbank Vision Fund II. Additional investment came from aldeA Ventures, Atomico, Bessemer Venture Partners, Blisce, D1 Capital Partners, Eurazeo, Felix Capital, Futury Capital, H14, Hillhouse, IVP, LionTree, and existing investors.
How much is Sorare worth?
The latest valuation of Sorare is $4.3 billion (in September 2021), which corresponds to €3.6 billion at that time's exchange rate. This makes Sorare one of the three most valuable e-commerce and direct-to-consumer startups in Europe according to a statistic by CB Insights. 
How many people work for Sorare?
According to Sorare, the company has more than 150 employees. These are located in offices in Paris, France, and New York, USA.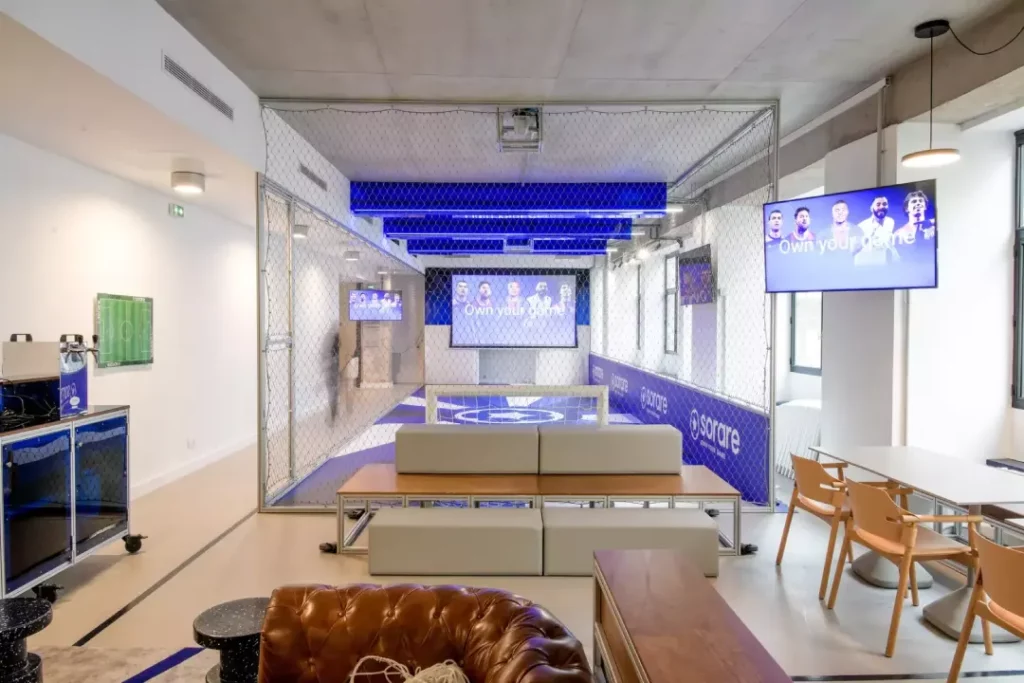 How much money does Sorare make?
According to the German tech podcast Deutsche Startups, Sorare had a gross merchandising volume (GMV) of €123 million in Q2 2022. They assume that Sorare maintains 30% of that, so roughly €37 million per quarter or €12m per month. Considering the last valuation of €3.6 billion, Sorare would be valued at a revenue multiple of 25.
Additional Sorare statistics and trivia
What was the first player card on Sorare?
The first Sorare card ever was Hans Vanaken Rare (1/100) and it was minted on March 11, 2019, at 17:20:37. It was won as a reward by manager juy12218. We bet you did not know this Sorare fact!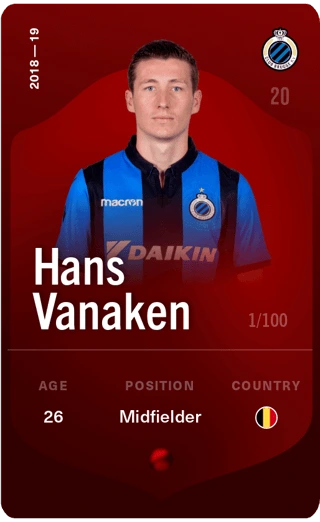 Who is the best performing Sorare player?
On average, the best performing players on Sorare currently are Lionel Messi, Joshua Kimmich, and Neymar Jr. Surprisingly, superstar Cristiano Ronaldo is not even close to the top 100.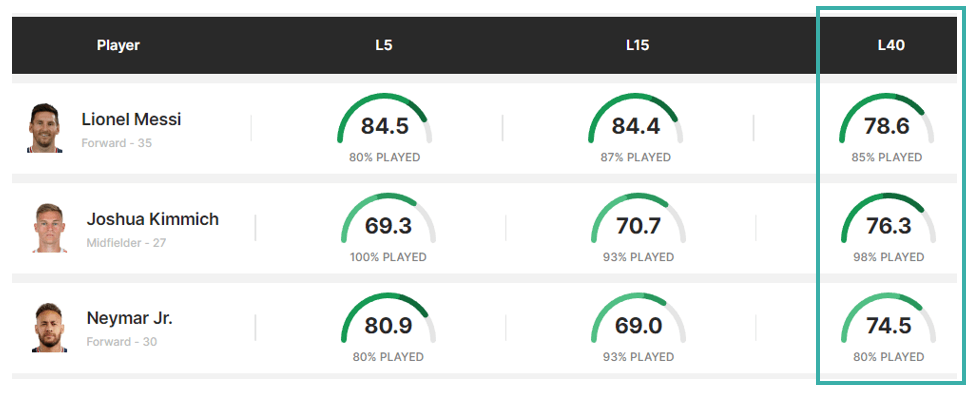 What is the most expensive Sorare MLB baseball card?
The most expensive Sorare MLB baseball card is Aaron Judge Unique from 2022.
It was bought by Zlataneur01 on October 5, 2022, for 70.72 ETH. At that time's exchange rate, this was equivalent to €95,358 or £83,400 or $94,092.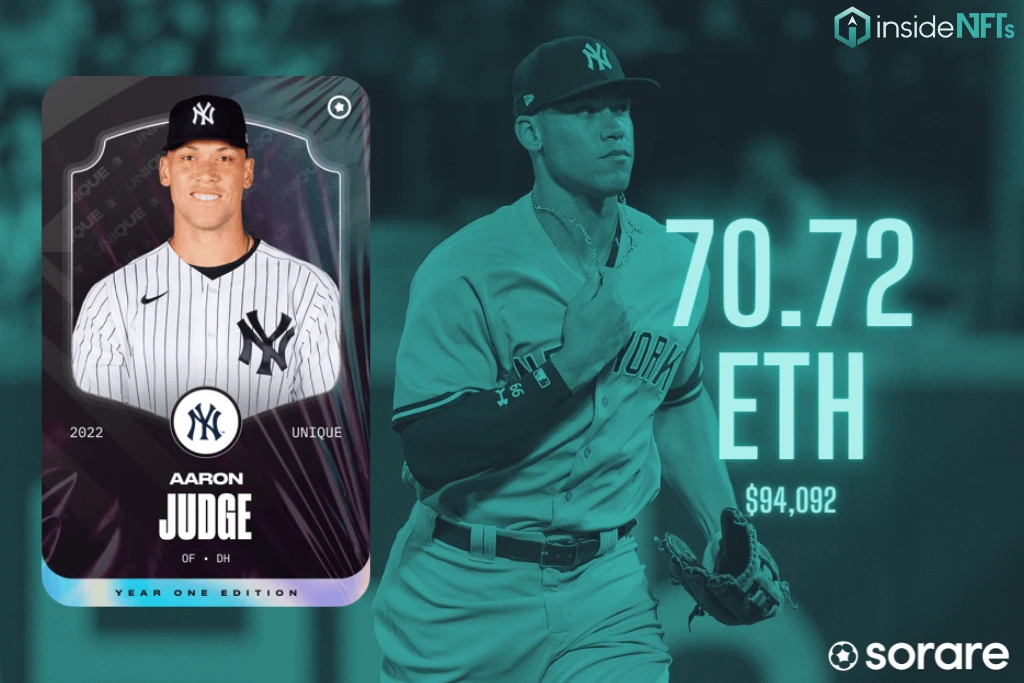 How many people play the baseball game Sorare MLB?
We estimate that roughly 6,000 Sorare MLB users regularly play in the paid baseball competitions. In Gameweek 19 on Sorare MLB (24 – 26 September 2022), more than 33,000 people participated in the free-to-play Common All Star competition. Around 3,400 people participated in the paid competition Limited All Star and ~1,300 people submitted a lineup in Rare All Star. User numbers in the more expensive Super Rare and Unique competitions are significantly lower.
Mats is co-founder of inside NFTs. He studied business administration in Mannheim (Germany), Lisbon (Portugal) and Auckland (New Zealand). In early 2021, he began his journey through the world of non-fungible tokens via NBA Top Shot. Ever since, he has established himself as part of the German-speaking NFT community and covers the latest web3 trends with great enthusiasm.
The inside NFTs Sorare guide covers all the basics from A-Z and sets you up to become a successful manager. Use our insider tips and avoid common mistakes!