Add a header to begin generating the table of contents
The 7 best Sorare tools and resources
The most successful Sorare managers don't just rely on their intuition, but use a whole range of special applications and resources. In this article you will learn everything about the most important Sorare tools including SorareData, prorare & Co!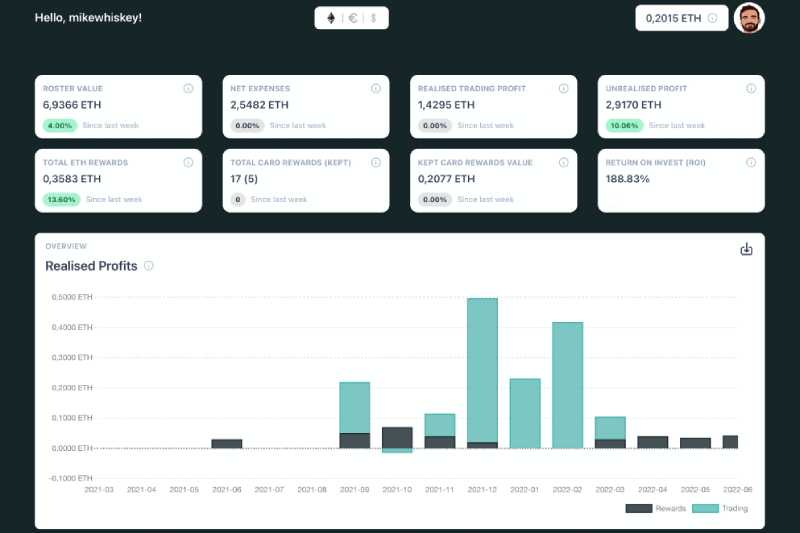 Add a header to begin generating the table of contents
In order to win prize money on Sorare every week, you have to beat some tough competition. Fortunately, there is a large ecosystem of Sorare tools, resources and communities that are extremely helpful.
1: SorareData
SorareData is without a doubt the most important tool for Sorare managers. Anyone who doesn't use SorareData is going to have a hard time getting into the prize ranks.
SorareData is a statistics portal that supports Sorare managers in many ways: From market values and sales volumes to player rankings and a line-up configurator, SorareData offers numerous free services. In addition, SorareData holds its own competitions.
For many managers, the tool is the first starting point for player scouting. For example, you can check what average scores the players have achieved recently, if they regularly are part of the starting lineup and for how much money the cards recently sold for.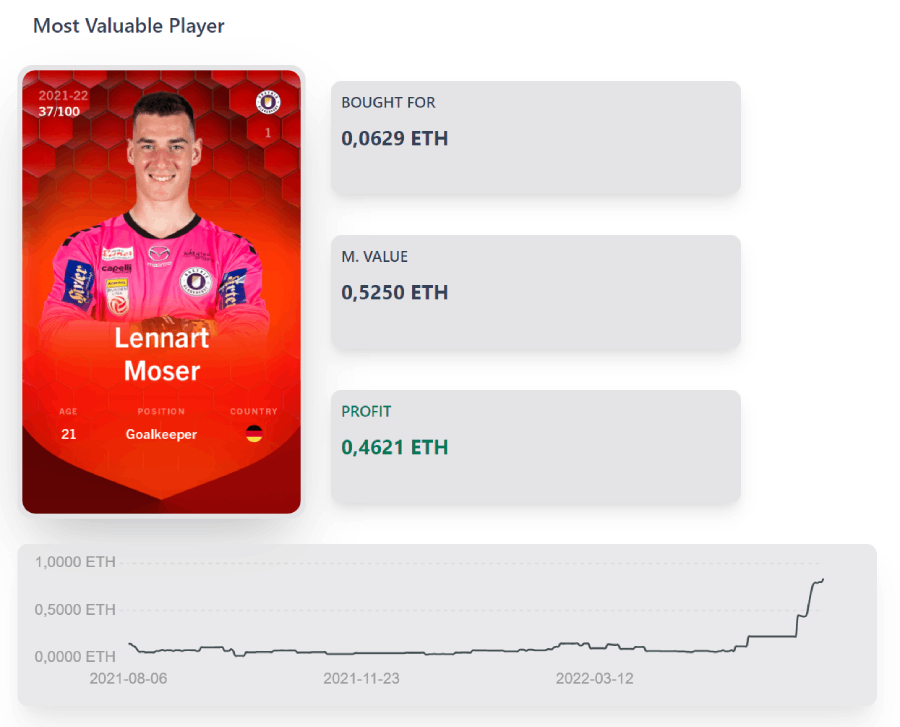 2: prorare
Portfolio tracker prorare is the ultimate Sorare tool for all managers who want to evaluate and improve their financial performance. The web-based application provides at-a-glance information on all transactions, rewards won and much more.
Features of prorare include:
Current and historical value of the Sorare gallery
Return on Investment KPI
Monthly trading profits
Most valuable player
List of all transactions
This also makes prorare an extremely useful tool for all managers who want to include their Sorare profits in their tax returns. With prorare, tediously updated Excel lists and manually updated transaction data are a thing of the past.
Admittedly, we are a bit biased: After all, we programmed prorare ourselves. But we wouldn't put our name to it if we weren't 100% convinced of its worth. By the way, unlike similar Soraretools, prorare is free to use.
3: PlaySharper (previously SorareSharp)
The tool was previously known as SorareSharp or SorareApp – in the meantime, however, the provider has changed the name to PlaySharper. Nevertheless, this does not affect the usefulness of the tool.
The app by PlaySharper or SorareSharp helps you set up your own team: The Lineup Predictor gives you individual probabilities for any game or player. This makes it much easier to decide which player to field in a game week or which player to send to training.
PlaySharper also lets you find out whether a player is injured and when he is ready to play again. Not too shabby, as every Sorare manager knows: there is nothing more infuriating (and costly) than DNPs!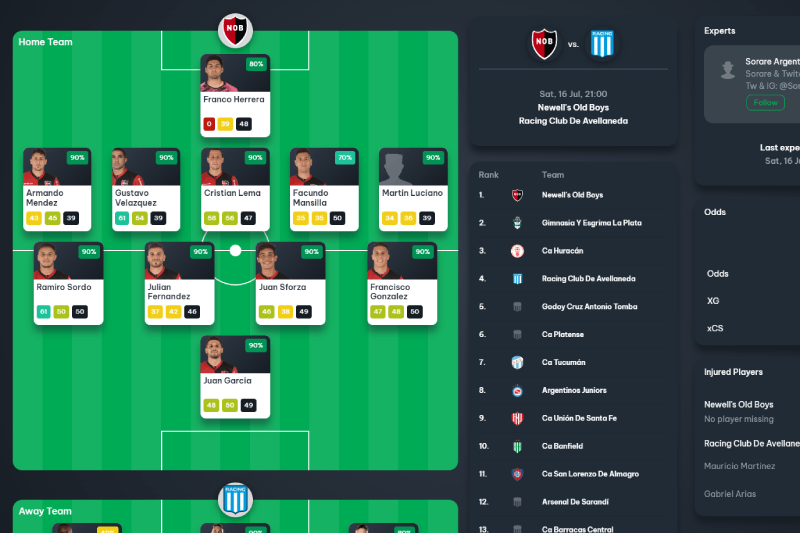 4: SorareMega and SorareBrag
SorareMega and SorareBrag are two popular side games in which you can compete against other managers in one-on-one duels or against friends in private leagues and also win valuable prizes.
In case your friends are active on Sorare, SorareBrag is a great opportunity to have even more fun. We also use SorareBrag in our own (German-speaking) inside NFTs Sorare community on Discord to run our own little competition.
5: Transfermarkt.com
The old favourite transfermarkt.com is, of course, well known among football fans. Yet the site can also be a very useful resource for Sorare, especially when it comes to scouting new players.
There is probably no other source of information that offers such a wealth of information and statistics on individual players and transfers. Experienced managers know that the transfer of one's own player can also have unexpected consequences for the performance at Sorare. If a player transfers to a league that is not covered by Sorare, you will look like a complete fool. On the flip side, however, you can also reap big profits if you bet on the right transfer in advance and buy accordingly.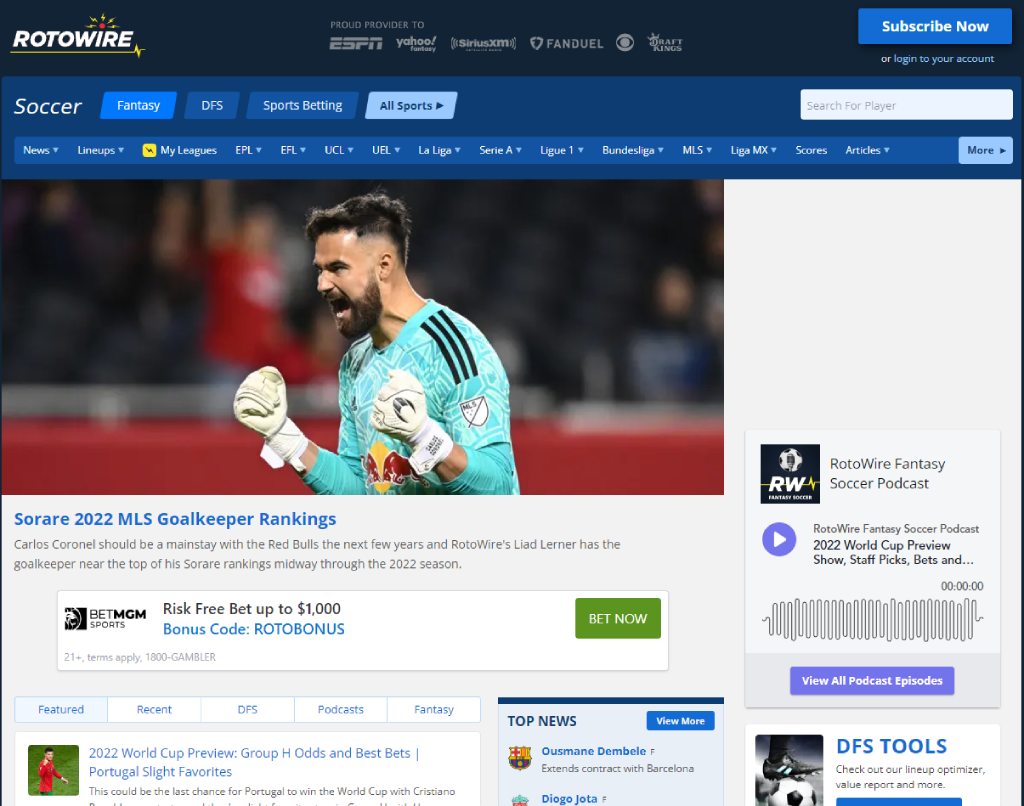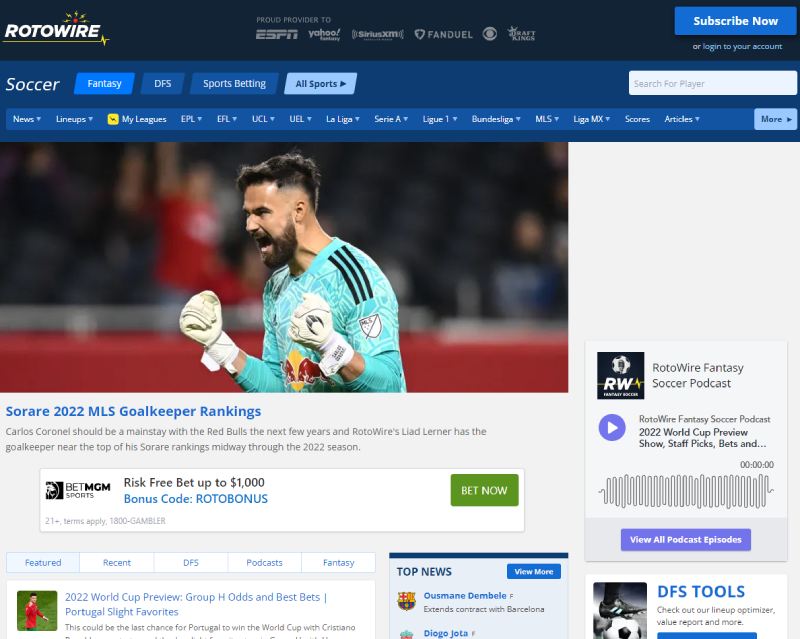 6: RotoWire
RotoWire is an American service provider – which is why, disgracefully, one has to select "soccer" in order to find the interesting information. It's worth it, though, because RotoWire provides not only general news but also expected lineups, injuries and extensive team statistics.
While RotoWire is not exclusively dedicated to Sorare, it is nevertheless a first-class source of information for all fantasy sports fans.
7: Sorare Blog and Discord Community
Naturally, other Sorare managers or the exchange with them via Sorare communities is one of the most valuable resources for more information on Sorare. In this way, you can get advice on which players you should buy and field and which strategies are most successful in the long term.
In this context, the official Discord Community of Sorare should of course be mentioned first, as it is the guaranteed first place to get all the latest information on the popular fantasy football manager game. As far as news and instructions are concerned, the official Sorare blog on Medium should also be mentioned.
On the other hand, there are also country-specific Sorare communities. We are of course proud to operate one of the largest German-language discord servers in this area. If you are looking for a Discord community in your language or region, try to search for "Sorare" + language/region on Twitter.
We wish you lots of success with these 7 useful Sorare tools and resources and have our fingers crossed for your next game week!
Your exclusive sign-up bonus
If you don't have a Sorare account yet, you should definitely take advantage of our exclusive sign-up bonus: With your fifth new signing from the transfer market, you will receive an extra Limited card as a gift, which you can either collect, sell or use in the various tournaments.
Mats is co-founder of inside NFTs. He studied business administration in Mannheim (Germany), Lisbon (Portugal) and Auckland (New Zealand). In early 2021, he began his journey through the world of non-fungible tokens via NBA Top Shot. Ever since, he has established himself as part of the German-speaking NFT community and covers the latest web3 trends with great enthusiasm.
The inside NFTs Sorare guide covers all the basics from A-Z and sets you up to become a successful manager. Use our insider tips and avoid common mistakes!