Add a header to begin generating the table of contents
Sorare: The Ultimate Beginner's Guide 2022
Learn everything you need to know about Sorare, the fantasy football game where you have the chance to earn real money every week! Besides a detailed explanation of how to play Sorare, our guide covers valuable tips on getting started and how to avoid common pitfalls.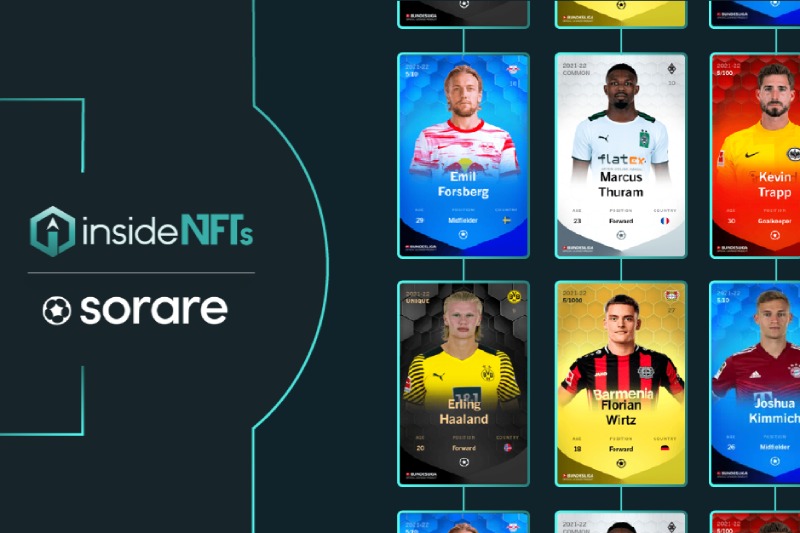 Add a header to begin generating the table of contents
What is Sorare?
Sorare is a blockchain-powered fantasy football game that digitises the collecting and trading of football cards. Users – called "managers" in the game – acquire limited cards of selected players and compete in various competitions. Prices include player cards of different scarcities as well as ETH (cryptocurrency) rewards.
The better the performance of one's own players on the real pitch, the more points one earns as a manager. Besides goals, assists and clean sheets, criteria such as the pass completion rate or the number of chances created also count towards a player's score. British sports analytics company Opta Sports provides Sorare with the necessary data for real-time scoring.
The Sorare team, which is backed by numerous football icons including Rio Ferdinand and Antoine Griezmann, has signed official licensing agreements with almost 230 clubs from 39 leagues. So far, these include the entire Bundesliga, La Liga, Ligue 1, MLS, Serie A as well as Premier League side FC Liverpool.
How do I play Sorare?
First, it is important to know that each player card is a so-called non-fungible token (NFT). These NFTs are unique digital files that are recorded on the Ethereum blockchain, along with further information such as the cards' transaction history. This makes the Sorare cards secure against fraud, indestructible and uniquely attributable to their respective owners.
On Sorare, five players form a full fantasy football squad which can compete for valuable prizes each gameweek: one goalkeeper, one defender, one midfielder and one attacker, as well as any additional outfield player. The lineups are decided by the managers in advance of each match day.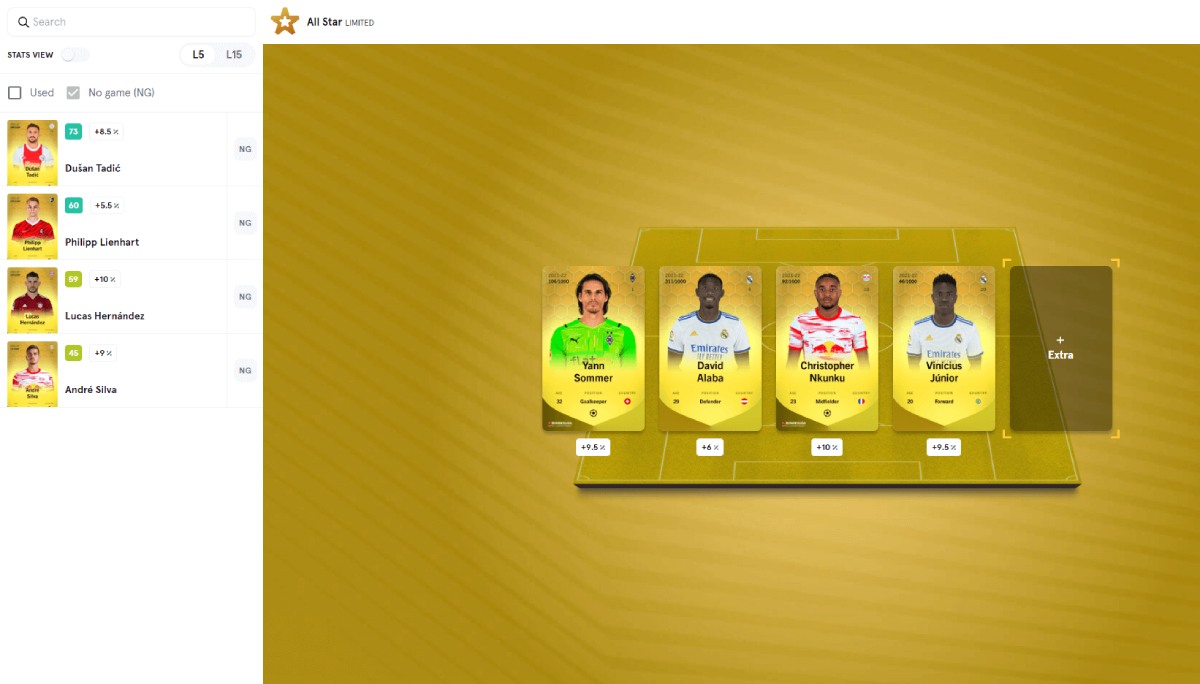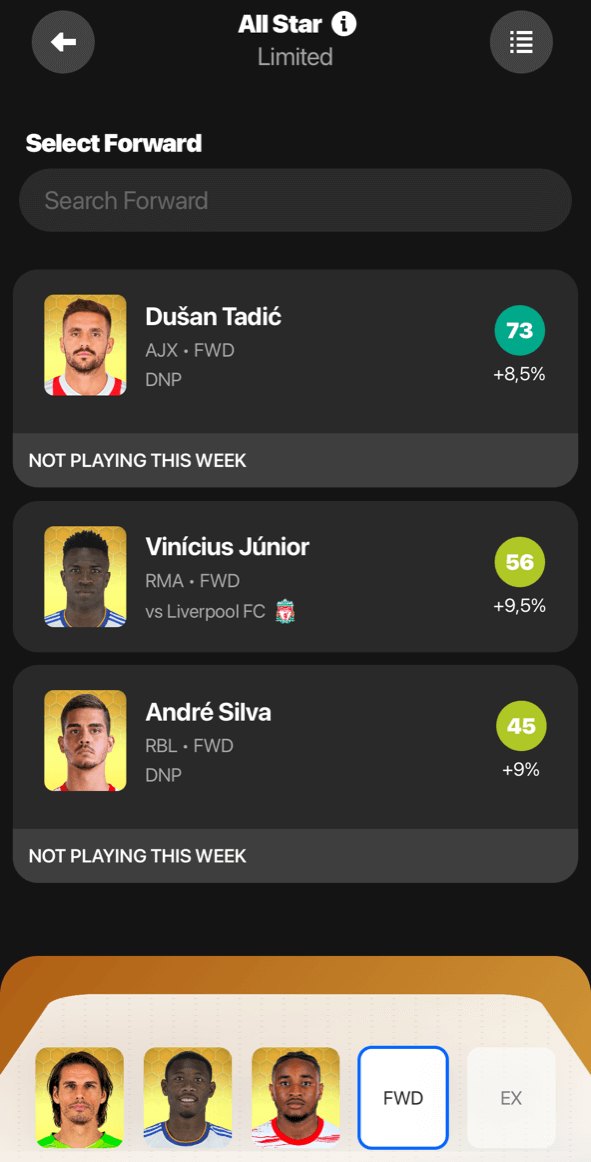 At the end of the gameweek, the participating managers of each tournament are ranked. The scores of the player cards are based on their performances in real life. On top of that, there are bonuses that depend on the experience points (XP), the scarcity level and the issue date of the cards. The designated team captain of each team also receives a substantial extra bonus.
Experience points
Players collect experience points (XP) simply by accumulating playing time - the more often you field a player, the more XP he accumulates and the higher his card level rises. With each of the maximum 20 levels, a player's score bonus increases by 0.5 percent.
The more competitive a tournament is – i.e. the more managers participate – the greater the prizes are (so-called "dynamic rewards").
Most rewards are cards, and the values of the cards depend on the position achieved in the ranking. In addition, prize money in the form of Ethereum's cryptocurrency ETH can be won. (more on this in the section "Prize money and rewards").
Sign-up and getting started
Signing up for Sorare is free of charge and can easily be done in just a few steps. In any case, you should use a referral link such as ours below to get the process started. By doing so, you will get a free Limited card after your fifth auction win, so not using one at all would be sort of an own goal!
Note: If you sign up to Sorare without a referral link, you will not get a free Limited card and this cannot be redone. However, using our link will not only guarantee you a free card after your fifth auction win, but also support us, so that we can keep creating valuable Sorare content for free!
Your exclusive sign-up bonus
If you don't have a Sorare account yet, you should definitely take advantage of our exclusive sign-up bonus: With your fifth new signing from the transfer market, you will receive an extra Limited card as a gift, which you can either collect, sell or use in the various tournaments.
After submitting your details and verifying your email address, you can set up your club profile. Next, you complete the onboarding process and provide your payment information (optional). You can also connect your Ethereum-based wallet if you like to. There are two ways to fund your Sorare wallet with ETH: You can either connect an external crypto wallet such as MetaMask ("Connect my wallet") or conveniently deposit funds using a credit card or bank transfer ("Deposit with your local currency").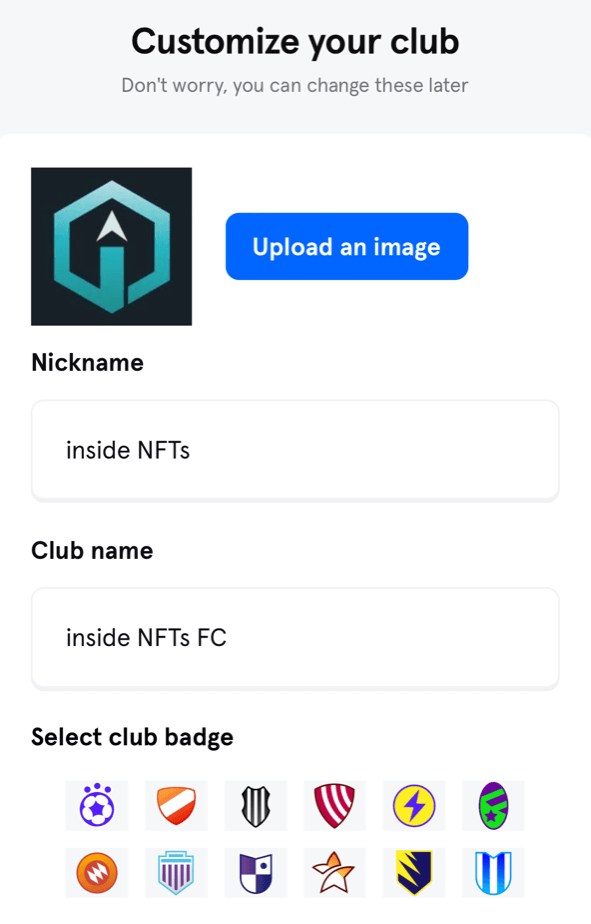 Sorare cards and their attributes
The cards are the absolute centrepiece of Sorare and the pride and joy of the managers. You should know their respective traits well if you hope to win prizes on a regular basis.
Scarcities
To start with, Sorare gives you a bunch of free, unlimited starter cards ("Common cards"). However, these can only be used to a limited extent in the further course of the game. Besides the Commons, there are currently four different scarcity levels: Limited, Rare, Super Rare and Unique.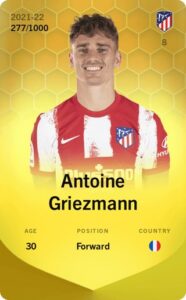 Limited
• 1000 cards per season
• eligible in one tournament category
• typical prices: one to three digit range
• score bonus: none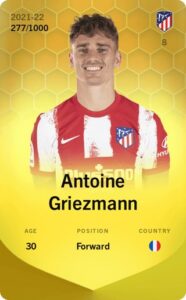 Limited
• 1000 cards per season
• eligible in one tournament category
• typical prices: one to three digit range
• score bonus: none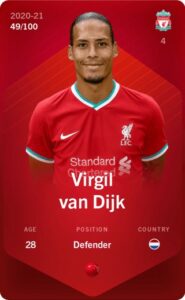 Rare
• 100 cards per season
• eligible in two tournament categories
• typical prices: two to four digit range
• score bonus: none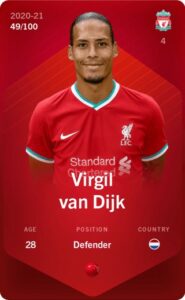 Rare
• 100 cards per season
• eligible in two tournament categories
• typical prices: two to four digit range
• score bonus: none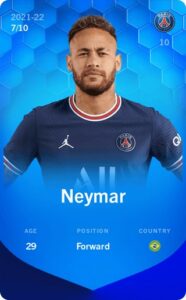 Super Rare
• 10 cards per season
• eligible in three tournament categories
• typical prices: three to five digit range
• score bonus: 20 %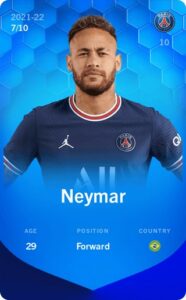 Super Rare
• 10 cards per season
• eligible in three tournament categories
• typical prices: three to five digit range
• score bonus: 20 %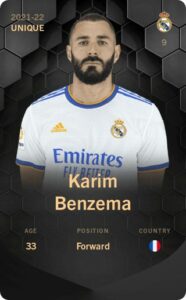 Unique
• 1 card per season
• eligible in two tournament categories
• typical prices: four to six digit range
• score bonus: 45 %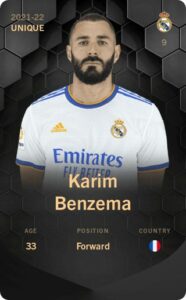 Unique
• 1 card per season
• eligible in two tournament categories
• typical prices: four to six digit range
• score bonus: 45 %
Serial number, average score and additional details
Each card has a serial number (top left corner) that makes it uniquely identifiable. Special serials such as #1 or a player's jersey number tend to be more expensive, but otherwise provide no in-game advantages for managers.
Situated directly above the serial is the season in which the player's card was issued. Current player cards receive a season bonus of 5 percent, which gives them a slight advantage over older cards. The other information (club, shirt number, age, etc.) speaks for itself.
Below the player card, the average score of the last five games, the accumulated bonus (scarcity, XP, season) and, if applicable, the U23 badge are displayed. The latter indicates eligibility to participate in the "Under 23" tournament.
By the way: Player cards retain their full utility when changing clubs. Despite outdated information on the card, the current club is always the decisive factor. For example, if a player changes from the MLS to the Premier League, his cards would be eligible for European tournaments from that point on.
Special cards and Sorare legends
Apart from the conventional cards, there are a few special cards that stand out visually. These cards are awarded, for example, to the champions of national leagues or to the "Player of the Year". These cards do not have any advantages in terms of points, but the collector's value may increase to some extent.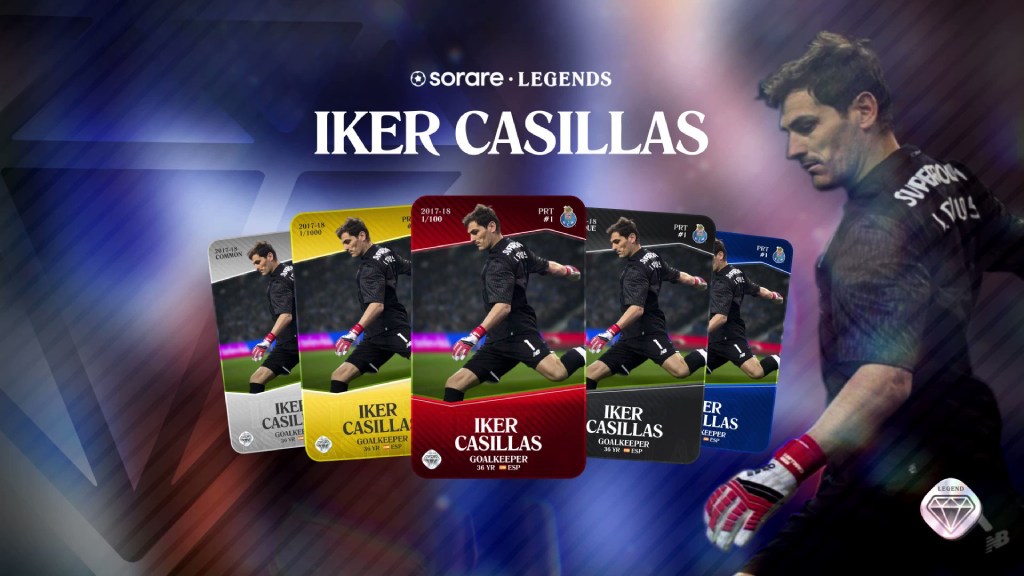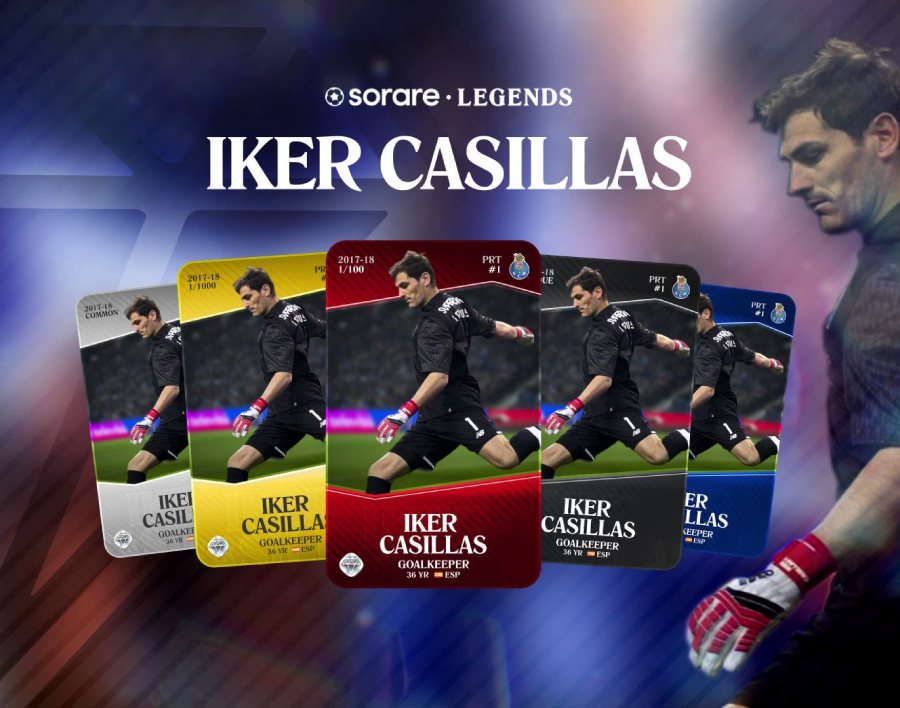 Also, Sorare recently partnered with 50 of the greatest legends of world football. Since then, vintage cards of icons like Iker Casillas or Ronaldo Nazário have gradually been issued. What makes them attractive is that they not only have true collector's value, but can also be used in the "Legends Challenge" tournament.
Player score: Exemplary calculation
As already mentioned, the final player score consists of several factors:
Performance of the player
Scarcity (Super Rare: +20%, Unique: +45%)
XP/card level (0-10%)
Card issue date (current cards: +5%)
Team captain (+20%)
Let's take a look at the Super Rare card of PSG star Kylian Mbappé pictured above. The calculation is always based on the performance score, which can reach a maximum value of 100. For this example, we simply use the average score of the previous five games, i.e. 60 points.
The bonuses are now calculated as follows:
Scarcity (+ 20 %): 60 x 0.20 = 12 points
XP/card level (+ 5.5 %): 60 x 0.055 = 3.3 points
Current card (+ 5 %): 60 x 0.05 = 3 points
That translates into a score bonus of 18.3 points and an aggregate score of 78.3 points. If Mbappé were to wear the captain's armband on match day, that would add another 12 points. Not bad at all!
Surely you are now wondering how to get your first "real" player cards. So let's move on to the transfer market.
How to buy and sell players on Sorare
The transfer market is the main place for managers to buy, sell, and trade player cards. It consists of two main segments: New card auctions by Sorare and manager sales.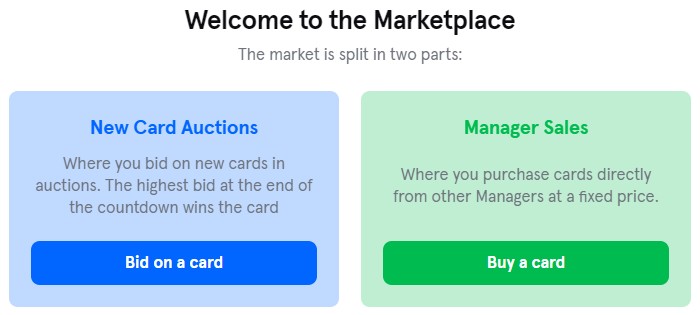 New card auctions by Sorare
Player cards can be bought at public auctions. These are the cards that have been freshly created ("minted") by Sorare. If you are the winner of an auction, you are the first owner of the respective card. Accordingly, the card level of cards bought at auctions initially is always zero.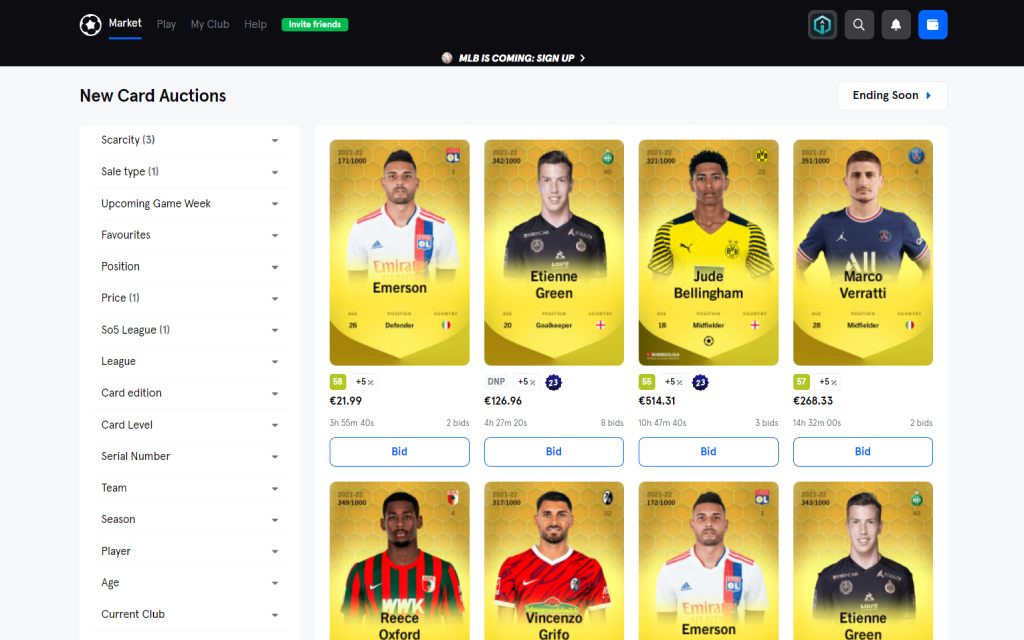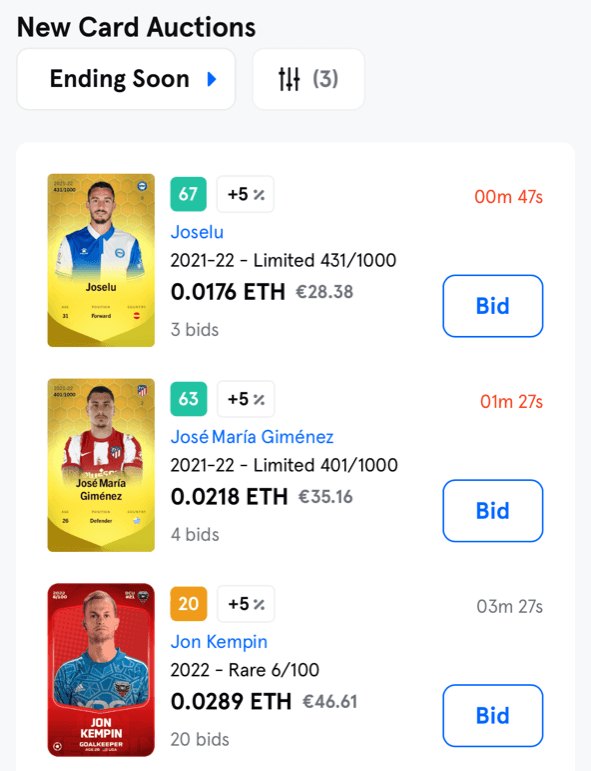 By using the many available filters, you can narrow down the displayed player cards to your liking. A simple click on "Bid" allows you to place your bid in ETH (wallet) or pounds (credit card). After a short time, purchased cards can be found under "My Club" and "My Cards". The cards are ready for use immediately.
Bundles
In addition to single player auctions, Sorare also offers bundles. Bundles consist of five players of the same club, which usually - but not always! - cover all the necessary positions, which allows you to start playing right away. The major drawback is that you are completely dependent on a single team's performance and fixtures.
Manager sales
This is the secondary market for cards. Managers, rather than Sorare, offer their players for sale, which is why in many cases they already possess higher XP. Interested managers can make counter-offers as well, although a minimum offer price can be set by the seller.
However, you should be somewhat cautious with manager sales, as cards are often put up for sale at prices that exceed the true market value. It is therefore advisable to check the current market prices on sites such as SorareData before making a purchase (see "Tools, Communities and Resources").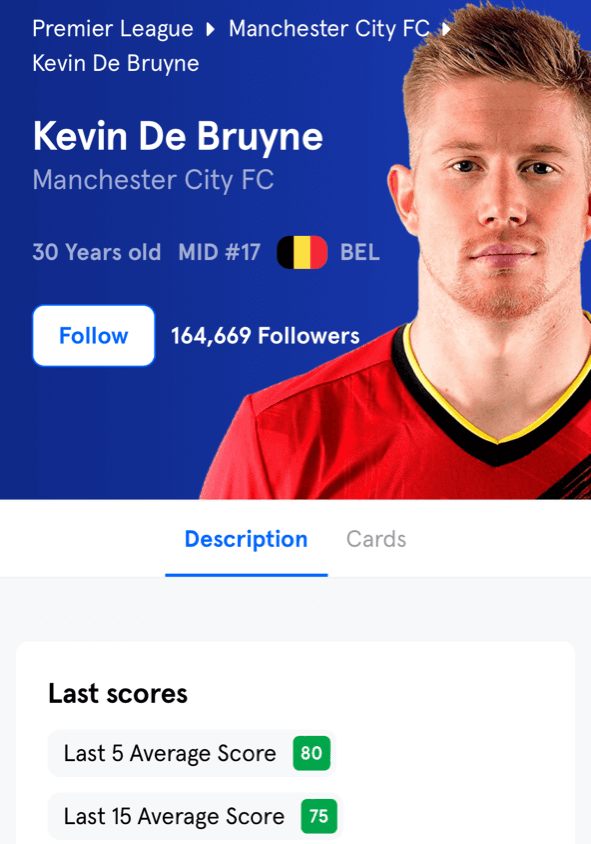 To sell one of your own cards, you first have to select it in the "My cards" section. You can then use the "Offer my card"-button to set the desired selling price in pounds or ETH.
Trade and swap deals by direct offer
You can't find a player in the new card auctions or on the manager sales market, but you absolutely wish to have him on your team? In this case, there is a third and final option: Direct trading with other managers.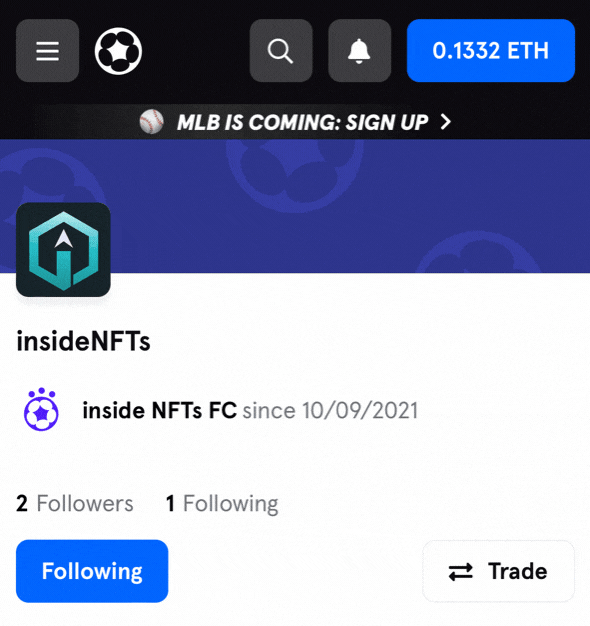 As you can see in the screenshot above, there is a "Trade" button on the user page of each manager. This button can be used to make an individual trade offer consisting of ETH, own player cards or a combination of both. As soon as an offer has been made, it is up to the other manager to decide whether to accept or reject it.
Once you have your first team together, you can register for the first real tournament. So let's move on to the various competitions at Sorare.
The tournament system
Sorare features various competitions that cater to every budget. In addition to the scarcity levels of the cards, the characteristics of one's squad also play an important role. But first things first.
Tournaments and scarcity levels
As we recall, exceptionally scarce cards are not only expensive, but they also inherently generate an added point bonus. To ensure some baseline fairness, Sorare therefore created different tournament categories based on the scarcity levels of the player cards: Common, Limited, Rare, Super Rare, Unique and Mix.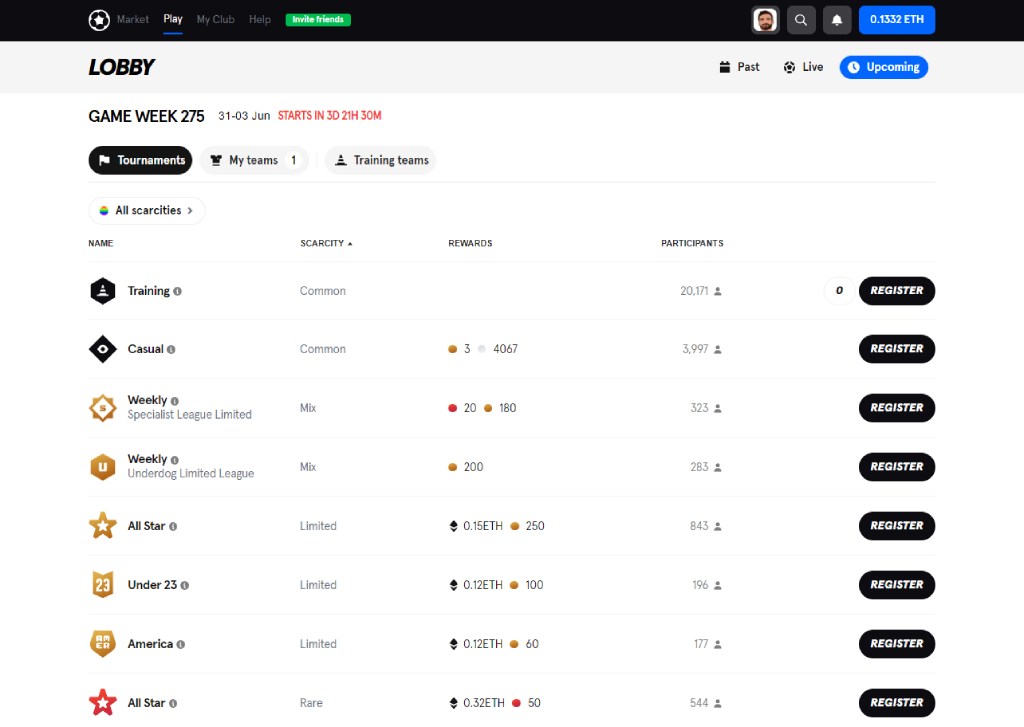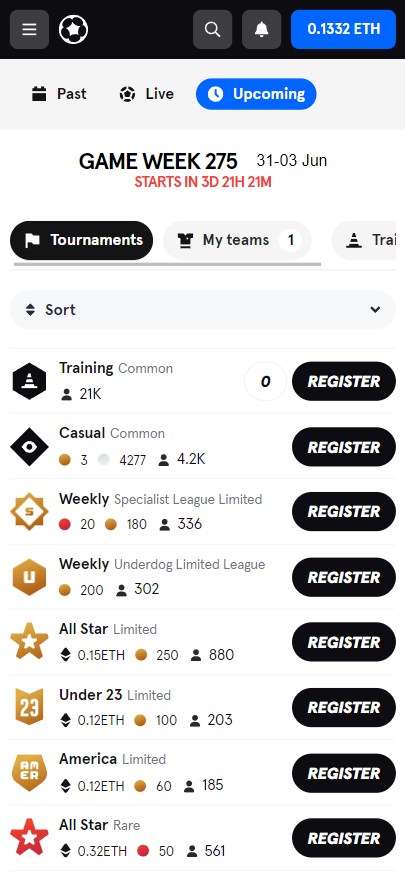 In the "Limited" category, which is very popular among managers, only cards of the cheapest scarcity (Limited) are allowed. The same principle applies to the "Common" category that serves as the beginners competition.
In the other ones, the scarcity rules are a tad more relaxed. For example, a Super Rare team in the "Super Rare" category can be supplemented with one Rare and one Unique card. The participation prerequisites for the "Mix" category change regularly.
All Star, Under 23, Champion Europe & Co.: The individual tournaments
So far, so good. Now we turn to the individual tournaments within each scarcity category. They all have their own entry requirements, for example with regard to the age or league affiliation of the players. This does not only make the competitions more interesting, but also allows for the development of real niche expertise.
Enclosed is a current overview of all tournaments including the requirements for participation:
| Tournament | Eligible Leagues & Players |
| --- | --- |
| Casual | All licensed players, no specific entry requirements |
| All Star | All licensed players, no specific entry requirements |
| Under 23 | All licensed players with a maximum age of 23 (as of July 1st 2022) |
| Champion Europe | Players from Europe's top five leagues only |
| Challenger Europe | Players from the remainder of Europe's licensed first divisions |
| Champion America | Players from all North- and South American first divisions |
| Champion Asia | Players from the J- (Japan) und K-League (South Korea) |
| Unique | Exclusive tournament for unique player cards of any licensed league |
| Weekly Specialist | Varying: Number of players from same club, min and max avg. scores |
| Weekly Underdog | Varying: Maximum average player score |
In addition to the "Casual" tournament, the Common category on Sorare includes the so-called "Training". Players that do not fill a spot in the tournament squads can be played there. They cannot win any prizes in Training but earn valuable experience points which help them to level up their XP bonuses. For this reason you should always register your spare players for the Training!
Prize money and rewards
Prize money and rewards are a key component of the Sorare ecosystem. In fact, quite a few managers routinely win substantial amounts of money with their teams.
Dynamic prize pools
All competitions have a dynamic prize pool. In short, this means that the prizes are always based on the number of participants. The more competitive a tournament is on a match day – i.e. the more managers participate with their player cards – the greater the rewards and the more managers are going to win a prize (in absolute terms).
Conversely, there is also less to be won on less competitive match days. The structure is always similar: The podium places usually receive an attractive ETH prize in addition to a player card. The other prize ranks (up to hundreds if there are enough participants) can also look forward to new player cards.
Sorare player tiers and reward logic
It makes sense that the most successful managers should also be awarded the most valuable player cards. For this purpose, Sorare works with a tier system that categorises players according to their current market value.
The most valuable players form the Star Tier. This includes heavyweights like Kylian Mbappé or Karim Benzema, young stars like Jude Bellingham and top goalkeepers like Manuel Neuer. Next, in descending values, are Tiers 1, 2 and 3.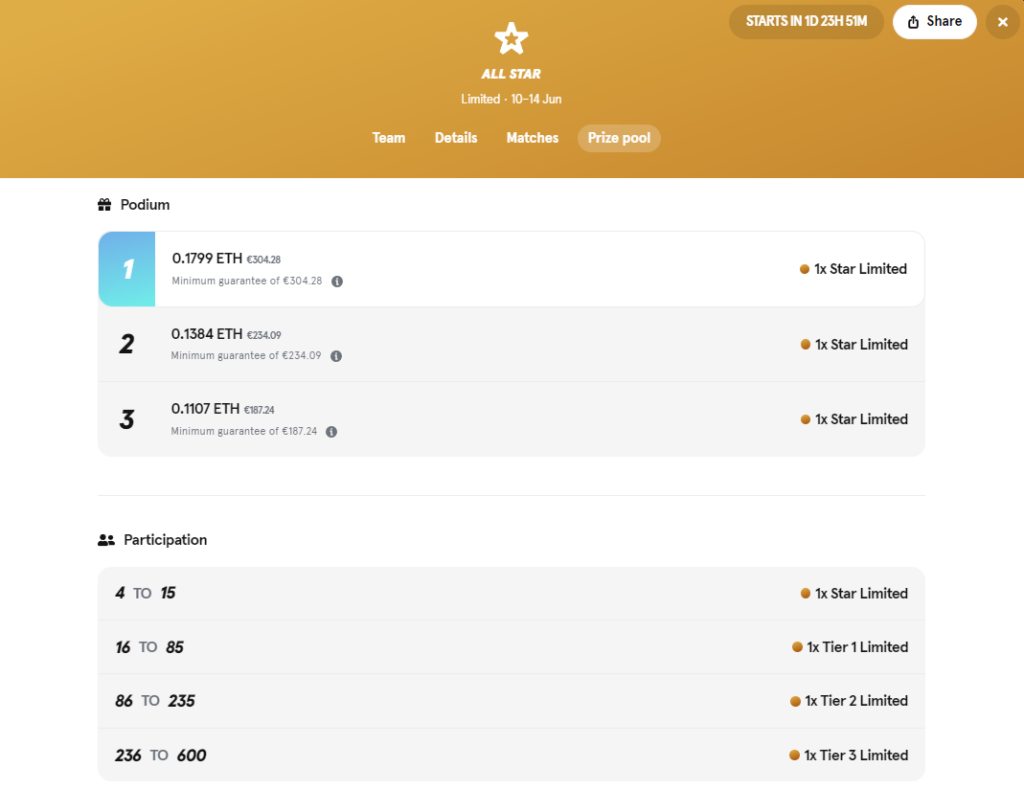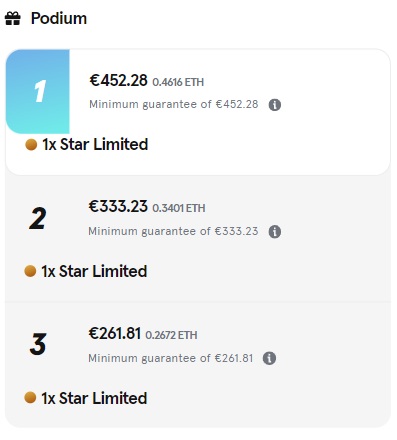 The above image illustrates the logic behind the Sorare rewards allocation: The price range of the final ranking (here: places 1 to 600) is divided into several groups that are each rewarded the same player tier. For example, places 4 to 15 are winning a card of the Star Tier, while places 236 to 600 have to make do with one of Tier 3. Also, the higher the position within a ranking group, the better the rewarded player tends (!) to be.
All rewards are allocated at random from a prize pool of possible players. The prizes for a specific tournament can be viewed under "Prize pool" as soon as teams can be registered for a new game week.
Earn money on Sorare
Earning prize money and rewards is an integral part of Sorare gameplay. Obviously, this requires an initial investment, which can be quite substantial depending on one' s ambitions.
To be clear: the more skilled your players are, the better the chances of regular rewards. However, it is also essential to demonstrate a talent for selecting and assembling the right players at the right time. Form, playing time, upcoming opponents – all these factors play an important role.
Threshold prizes
The All Star tournament in the "Rare" category is the only one in which the absolute number of points is decisive. Regardless of your position, you receive a fixed amount of ETH as soon as you exceed the threshold values of 205 (0.01 ETH) or 250 points (0.02 ETH). In general, this is the easiest way to get regular prize money. And these prizes do add up over time.
Prize money is always paid out in Ethereum's native cryptocurrency Ether (ETH). The digital coins can be transferred to an external wallet or exchange via the wallet icon and the "Withdraw" tab. There, it is then possible to exchange them for fiat currencies such as pounds, euros or dollars.
Thus, there is no such thing as a dedicated Sorare coin. Likewise, it is not possible to buy shares in the French tech-startup at the moment. If you want to bet on the success of the digital trading cards, your only option at the moment is to invest directly in the NFT-based collectibles.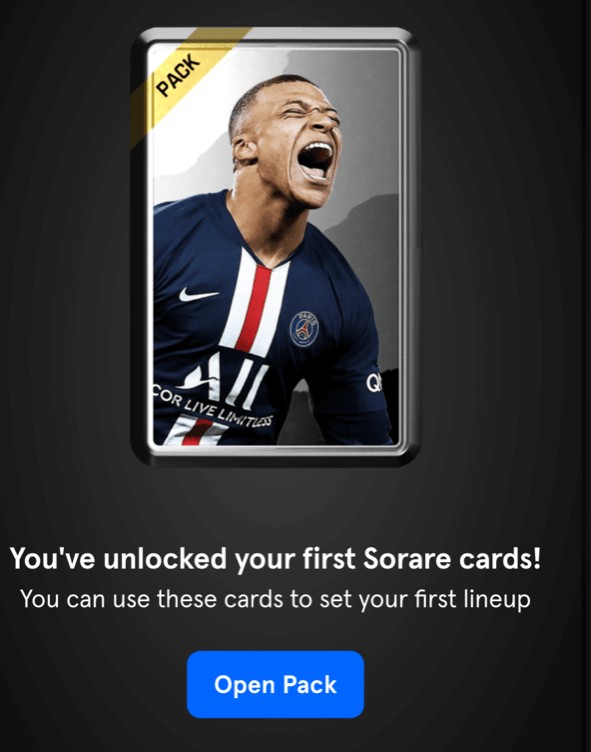 Valuable tips to get you started
Beginners can quickly learn the hard way when it comes to Sorare. That's why we'll give you a few tips along the way that should give you a small head start.
Properly scout players: Many managers rush into the transfer market full of enthusiasm without thinking things through properly beforehand. To avoid losing a lot of money, you should think carefully about which tournaments you want to play first. Then, set a fixed budget and elaborate the types of players you want to buy. Among other things, take into consideration the players' current form, their susceptibility to injury, possible transfer rumours as well as their teams' outlooks.
Build a niche expertise: Besides the rich managers, the ones who are most successful are those who have real expertise. To avoid the biggest competition, it can be worthwhile to take a look at more "exotic" leagues. The American MLS, for example, still flies under the radar of many people compared to Europe's top leagues. A pleasant side effect also is that the prices of player cards tend to be more affordable.
Show foresight: Patience pays off – also on Sorare. While a player's injury is the ultimate disaster for many, it offers a real opportunity for managers with a long-term investment horizon. Why? Quite simply, the players concerned can often be had at a real bargain price, as they are thrown onto the market in huge numbers. The situation is similar with players whose teams are in the off-season, i.e. do not play any matches.
In addition, there are some tools and communities that can add tremendous value and dramatically increase your chances of success.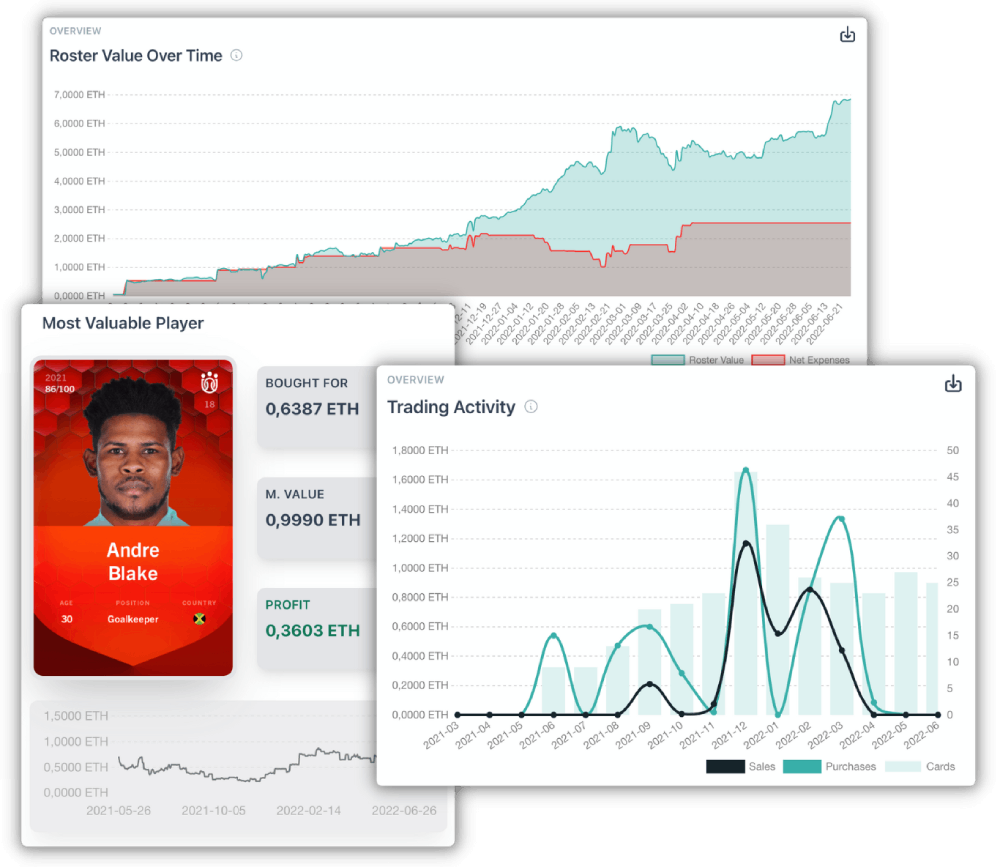 Tools, communities and resources
There is a large ecosystem of Sorare communities and third-party applications that enhance and improve the gaming experience.
For more information, read our dedicated review of the 7 best Sorare tools and resources.
prorare – The Sorare Portfolio Manager
However, there is one Sorare tool in particular that we must highlight at this point: Our proprietary Sorare tool prorare helps managers track their financial performance.
The features of prorare include a comprehensive dashboard with numerous KPIs and charts, as well as a list of all transactions executed on Sorare. With prorare you can analyse your rewards and trading profits, examine the roster value over time and discover more about your most valuable players.
By the way: unlike many other Sorare tools, prorare is completely free to use.
Sorare communities and resources
The largest community is surely the Discord of Sorare itself, where you can always keep yourself informed, where you will meet thousands of like-minded people exchanging tips and strategies. Also, you are guaranteed to always be up do date when it comes to important news and information.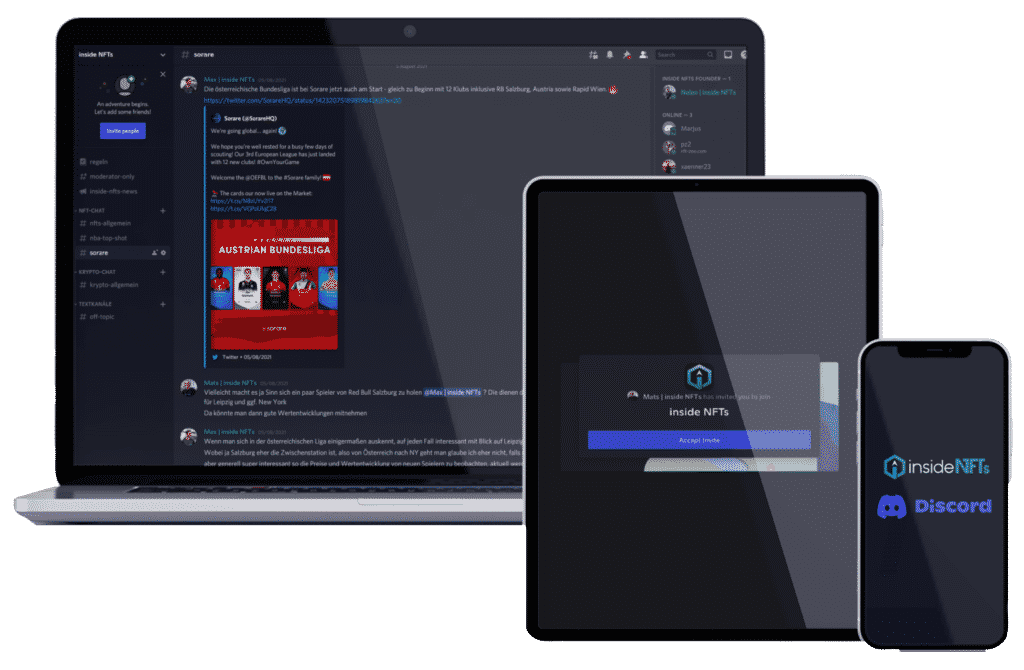 Our experience with Sorare
Newcomers are initially confronted with a lot of information, which may cause some confusion. That is why our readers often ask us about our own personal experiences with Sorare.
So far, they have largely been very positive. Those who are willing to make the necessary investment in terms of time and money can look forward not only to fun and entertainment, but also to an extremely well thought-out gameplay and the opportunity to win prizes on a regular basis.
Minor bugs from the early days have been fixed by now, and the general user experience has also improved a lot since our start at the beginning of 2021. Sorare is a solid, well-funded and reputable company with a very promising future.
The most expensive Sorare cards
With the introduction of the cheap Limited cards in 2021, Sorare has managed to make the fantasy football game a lot more accessible to the masses. However, this did not decrease the prices at the other end of the spectrum. On the contrary, staggering new auction records can be observed quite frequently.
As of now, the undisputed record holder is superstar and new Manchester City striker Erling Haaland: In order to secure the services of the Norwegian wonder kid, manager "Zima Blue" paid the unbelievable amount of £508.000!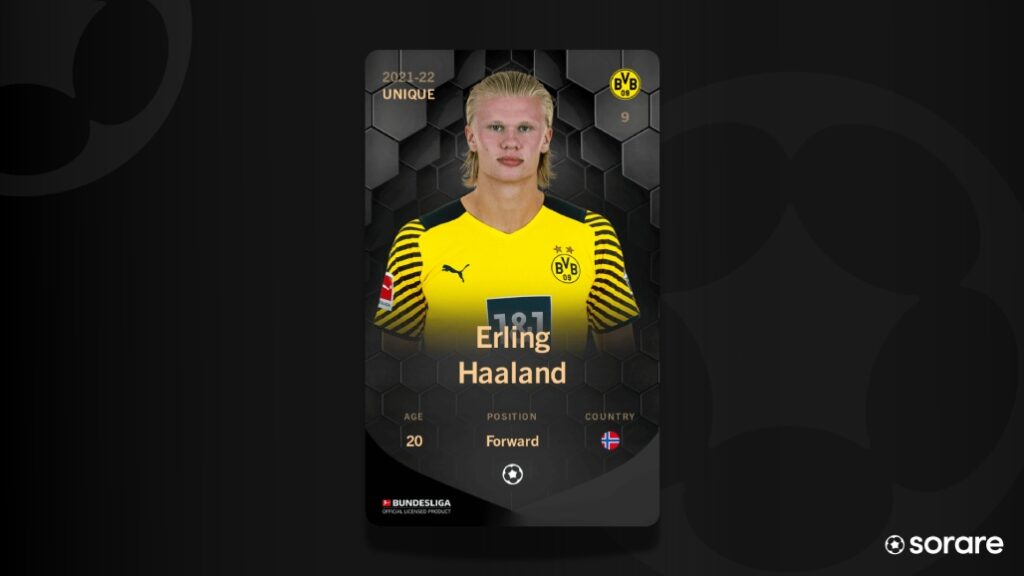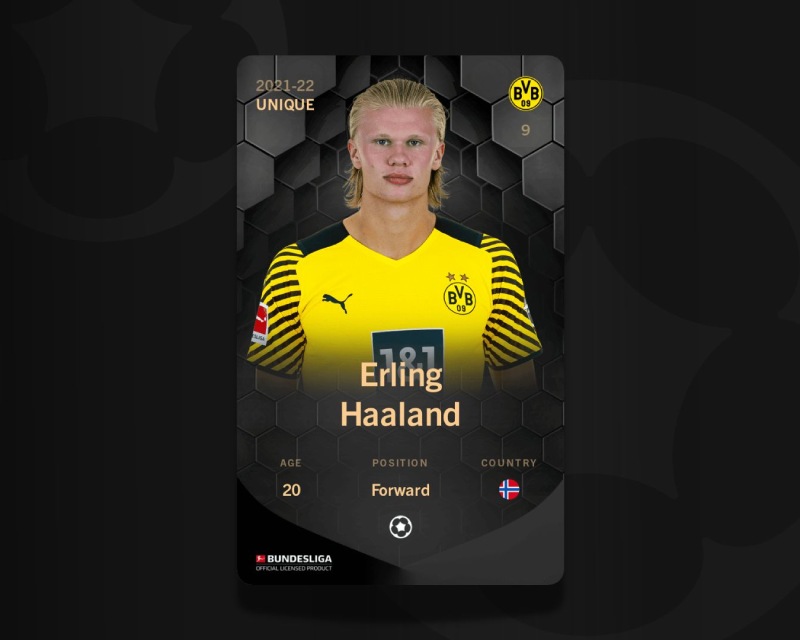 A brief profile of the company behind Sorare
Sorare was founded in 2018 by the two Frenchmen Nicolas Julia (Master in Management) and Adrien Montfort (Master in Data Engineering). Both were previously employed at the blockchain service provider Statumn and are therefore not only excellently skilled, but also very well connected in the industry.
Sorare has since succeeded in turning a bold idea into the most popular football NFT game. The user base now encompasses far more than 1.7 million registered managers (Ryan Spoon), and new cooperations have become almost the order of the day.
At the end of September 2021, Sorare also made a major announcement: Led by the Japanese Softbank Group, €580 million were invested in a new funding round – the largest single investment in NFT-history to date. The French tech startup is now valued at an incredible €3.7 billion.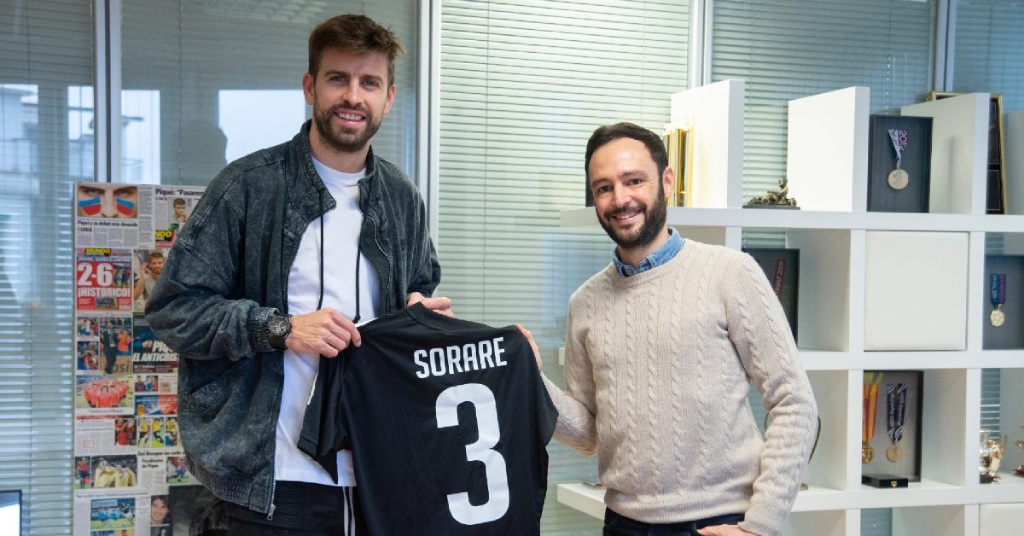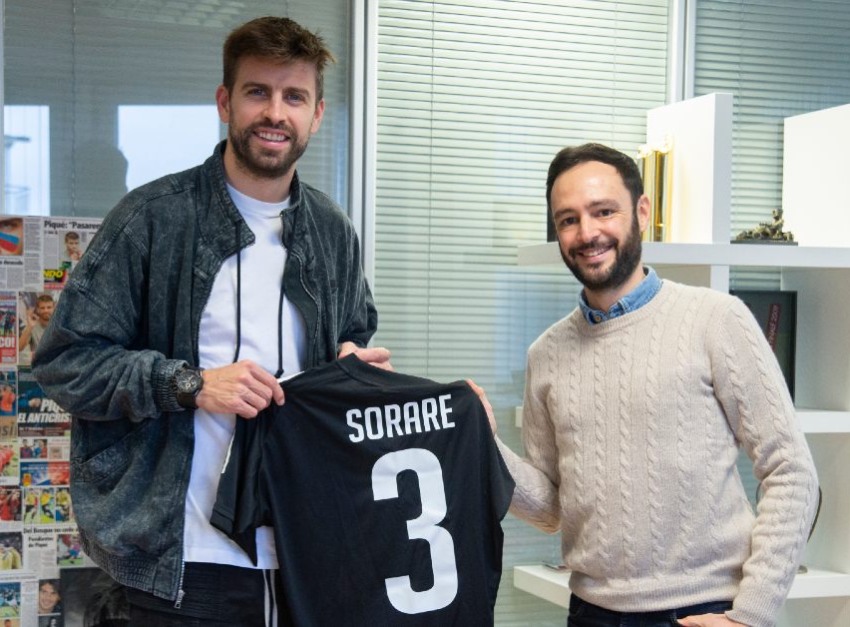 Sorare also has prominent personalities from the sports world at its side: LaLiga stars Antoine Griezmann and Gerard Piqué, England's legendary defender Rio Ferdinand, German World Cup hero André Schürrle – all of them have long since secured stakes in Sorare. US media mogul Gary Vaynerchuk as well as record tennis champion Serena Williams are also in on the action.
Your exclusive sign up bonus
Finally, we wish you lots of fun and success playing Sorare. We hope that this guide has helped you with one or two things. If you have any further questions, feel free to contact us anytime!
Your exclusive sign up bonus
If you don't have a Sorare account yet, you should definitely take advantage of our exclusive sign up bonus: With your fifth new signing from the transfer market, you will receive an extra Limited card for free, which you can either collect, sell or use in the various tournaments. Simply register free of charge using the button below.

Max is co-founder of inside NFTs. After graduating in economics in Frankfurt am Main (Germany) and New York (USA), he pursued a career in commercial aviation. Nonetheless, he retained his long-standing interest in blockchain technology and thus came across non-fungible tokens in early 2021. Ever since, he has been passionately writing guides and articles about Sorare and other NFT projects.