Add a header to begin generating the table of contents
Sorare: The Ultimate Beginner's Guide 2023
In the free fantasy football game Sorare, you can win valuable prizes week after week. This Sorare guide is guaranteed to tell you everything you need to know for a successful start to your manager career!
Add a header to begin generating the table of contents
What is Sorare?
Sorare is a fantasy football game that digitises the collecting and trading of football cards. Twice a week, managers compete in various competitions for valuable rewards including price money and player cards of coveted superstars. Sorare is an officially licensed partner of 315 clubs from 50 leagues worldwide, including almost every European top team.
The underlying blockchain technology ensures that the cards actually belong to you as so-called non-fungible tokens (NFT). In addition, they are considered indestructible and virtually forgery-proof. Don't worry: you don't need to know any more than that to play successfully, as all the technical processes take place hidden in the background.
The game principle of Sorare is as simple as it is familiar: The better the stars perform in real life, the more points they score in the game. In addition to scorer points, factors such as duels won and lost, chances created or goals conceded are decisive. Excitement is guaranteed!
By the way: In addition to the classic Sorare (football), there are now two other offshoots of the popular NFT game: Sorare MLB (baseball) and Sorare NBA (basketball) for which we have also written a beginner's guide.
How to get a free Limited card
Registration with Sorare is done in just a few steps. In any case, you should use a so-called referral link. This way you will receive a random Limited card after your fifth won auction – so signing up without a referral link would be an own goal!
For this reason, either ask a friend who already plays Sorare to send you one, or simply use our link to register directly.
Note: If you sign up to Sorare without a referral link, you will not receive a free Limited card. Unfortunately, this cannot be reversed at a later date. By using our link, you can also support us so that we can continue to publish high-quality content on Sorare free of charge.
Is Sorare free to play?
In a nutshell: Yes, Sorare can be played free of charge. In the course of the registration, you receive a number of so-called Common cards as a gift. These are neither limited nor tradable on the marketplace. They do, however, allow participation in multiple beginners' tournaments which primarily serve to get to know the gameplay.
Particularly attractive: Despite free participation, you can win limited player cards at Sorare which can then be traded on the marketplace or used to participate in more advanced competitions. Apart from a bit of luck, this obviously requires some patience, as many Sorare managers fight for prizes in the free competitions.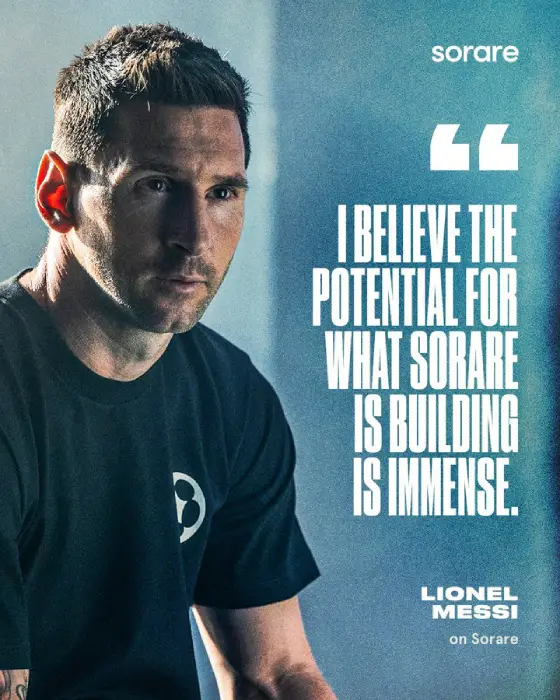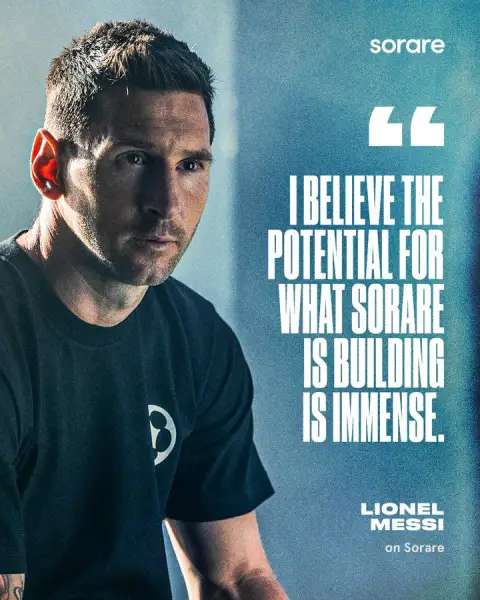 Those who would rather get started right away or maximise their chances of winning in the higher tournaments can become active on the Sorare marketplace. The player prices depend on their performance and the cards' rarity (more on this later) and range from pennies to truly astronomical sums.
Our experience with Sorare
As veteran managers, we are often asked by interested readers about our personal experiences with Sorare. Therefore, we have written a detailed report which, in addition to our own review of Sorare, also contains the opinions of veteran managers from the inside NFTs Sorare community.
That much in advance: Sorare is considered a reputable, financially strong and innovative company with a promising future. This is evidenced not only by the financial investments of renowned venture capital funds and business angels but also by the numerous licensing partners and, last but not least, close cooperation with world stars such as Lionel Messi, Gerard Piqué and Kylian Mbappé.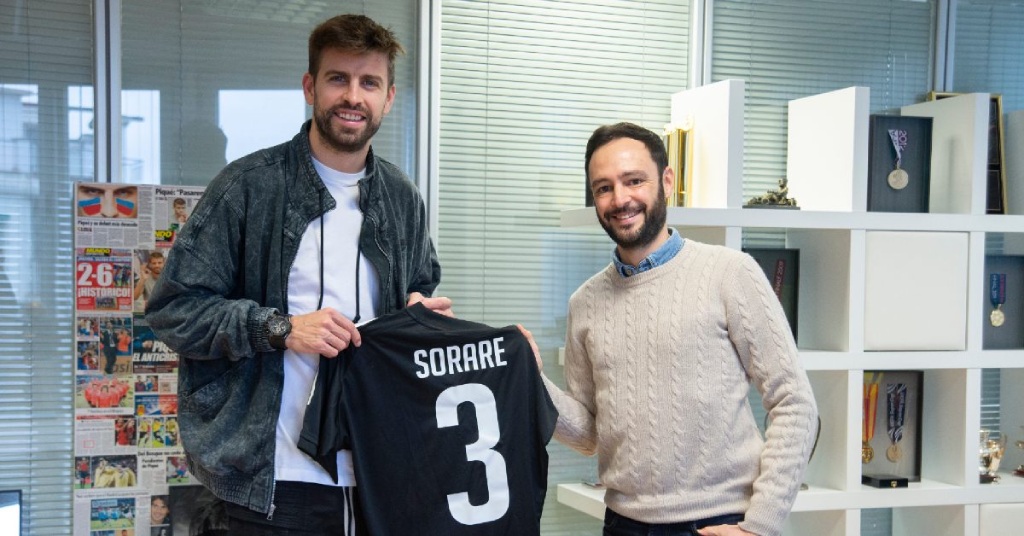 Sorare player cards
In addition to the Common cards mentioned above, there are four categories with increasing scarcity: Limited, Rare, Super Rare and Unique. The latter are more expensive but provide a points bonus and entitle managers to participate in tournaments with particularly high prizes.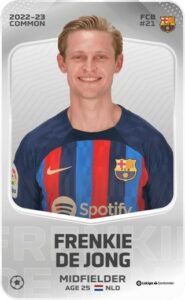 Common
• Silver-grey colour
• Unlimited and non-tradable
• Bonus: 0%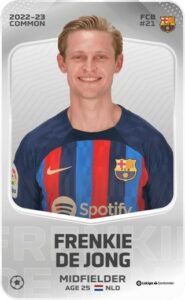 Common
• Silver-grey colour
• Unlimited and non-tradable
• Bonus: 0%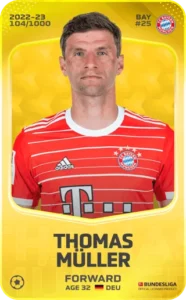 Limited
• 1000 cards per season
• Yellow colour
• Bonus: 0%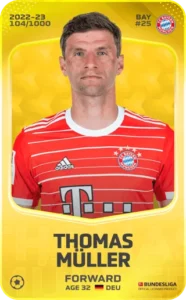 Limited
• 1000 cards per season
• Yellow colour
• Bonus: 0%
Rare
• 100 cards per season
• Red colour
• Bonus: 0%
Rare
• 100 cards per season
• Red colour
• Bonus: 0%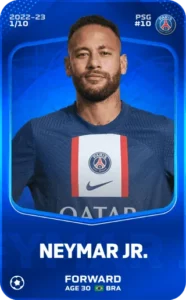 Super Rare
• 10 cards per season
• Blue colour
• Bonus: 20%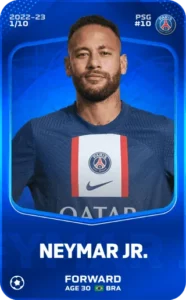 Super Rare
• 10 cards per season
• Blue colour
• Bonus: 20%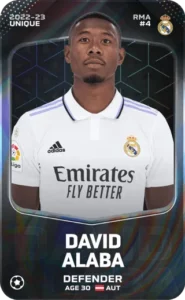 Unique
• 1 cards per season
• Black colour
• Bonus: 40%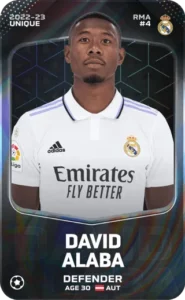 Unique
• 1 cards per season
• Black colour
• Bonus: 40%
Each card in Sorare has a serial number in the upper left corner which makes it uniquely identifiable. Right above it is the season from which it stems. Cards from the current season receive a points bonus of 5 per cent, which gives them a certain advantage over older cards. The other information (club, shirt number, age, etc.) speaks for itself.
By the way: Player cards retain their full functionality when a player changes clubs. If, for example, a player transfers from the MLS to La Liga, all his cards would be eligible for European tournaments from then on.
How do you play Sorare?
The game concept of Sorare is very sophisticated. At the beginning, the amount of information can seem overwhelming. However, if you spend a little time with the football NFT game, you will quickly internalise the most important aspects.
Gameplay
In Sorare, five players form a complete fantasy team with which they compete for valuable prizes on match days (Game Weeks): one goalkeeper, one defender, one midfielder and one forward as well as any additional field player. The lineups are determined in advance by the manager.
At the end of each Game Week, all participants in a tournament are ranked. The real life-performance is decisive for the player ratings (scores). In addition, a percentage bonus is added that results from the experience points (EP), the rarity level and the season from which a card originates. The designated captain of the team also receives an extra bonus.
Experience Points
Players earn experience points (EP) simply by getting playing time. The XP increases with each line-up until a new level is reached. With each of the 20 levels, the points bonus increases by a further 0.5 percent.
The more competitive a tournament is – that is, the more managers take part in match days – the higher the prizes (rewards). These consist primarily of player cards, which become more valuable with better placement. There is also prize money in the form of the cryptocurrency ETH (Ethereum).
Scoring system
During Game Weeks, each Sorare player obtains an individual score. The sum of the scores of all five players is decisive for the ranking in the tournaments. If a player does not play, he does not score any points whatsoever – in technical jargon a DNP (Did Not Play), which should be avoided at all costs!
When it comes to the composition of scores, a distinction must first be made: On the one hand, there is the already mentioned percentage point bonus, which is composed of various attributes of the player cards. The basis of the score, however, are the performance points, which correspond to the player's effort (max. 100). For this purpose, Sorare cooperates with the British sports analysis company Opta Sports.
The performance points are further divided into a Decisive Score and an All-Around Score. The Decisive Score is a kind of overall evaluation (one could also say: a scoring basis), which is influenced by decisive actions such as goals, own goals, assists or even sending-offs.
These actions determine the performance level of a player on a scale from -3 to 5. Each level corresponds to a certain number of points: A starting player always starts with level 0 and 35 points (substitute: 25 points). If he then scores a goal, for example, he jumps to level 1 and thus to 60 points. Another goal or an assist would earn him another 10 points (level 2), while a sending-off would throw him back to level 1:
| Decisive Level | Decisive Score |
| --- | --- |
| -3 | 0 |
| -2 | 5 |
| -1 | 15 |
| 0 | 35 |
| 1 | 60 |
| 2 | 70 |
| 3 | 80 |
| 4 | 90 |
| 5 | 100 |
Below is a list of Decisive Actions, each of which changes the level, and thus the Decisive Score, by one level:
Positive Actions (+1)
Negative Actions (-1)
Goal
Own goal
Assist
Error leads to a goal
Penalty won
Penalty conceded
Last man tackle
Red card
Cleared off the line
More than 3 goals condeded (GK)
Penalty saved (GK)
Clean sheet (GK)
The All-Around Score on the other hand is easily explained. It results from all other – less relevant – actions in the game (e.g., shots on goal or successful passes) and is added (or subtracted) to (from) the Decisive Score. It is worth taking a look at the so-called Sorare Scoring Matrix, which shows the various factors and associated points.
Tournaments and rewards
There are a variety of exciting competitions at Sorare. On the one hand, these differ according to the characteristics of the players who can be used. For example, there are separate tournaments for players from Europe's top 5 leagues, young talents or even players with poor form. This makes for additional excitement and allows for the development of real niche expertise.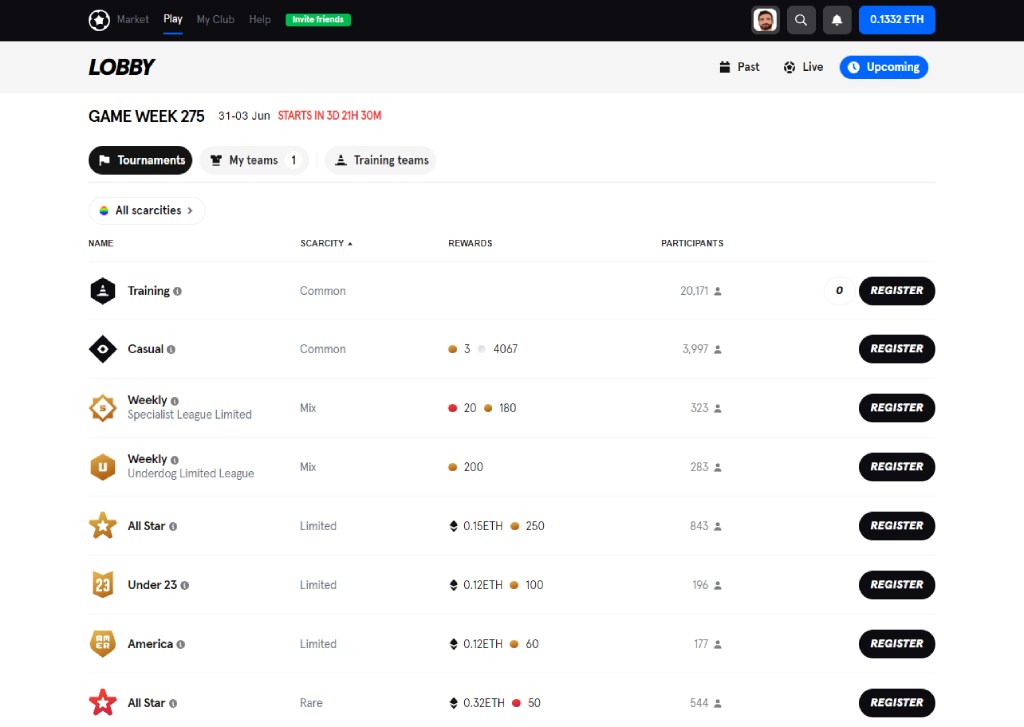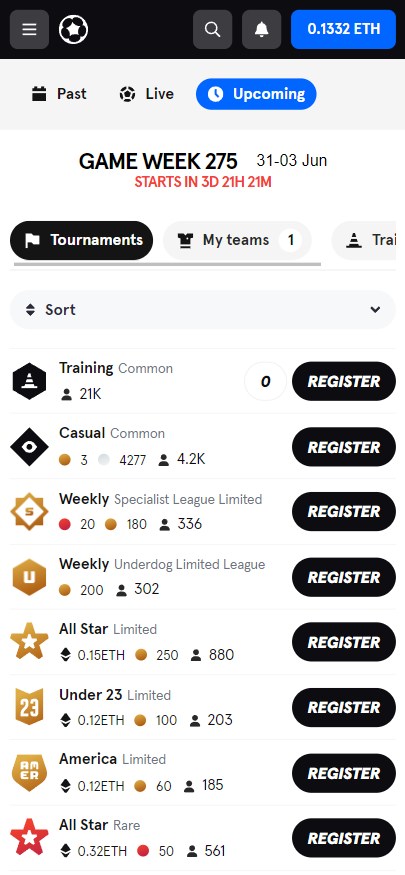 On the other hand, the scarcity levels of the cards play an important role. We remember: particularly rare cards are not only more expensive, they also receive a higher points bonus across the board. For the sake of fairness, most Sorare tournaments therefore come in several versions. While in some, for example, only Limited cards are allowed, others are reserved for the higher scarcities.
Logically, cards of higher scarcity are awarded as rewards in the more exclusive tournaments. The rule is: the more managers take part, the further the prize ranks go. And: The better the final ranking, the more valuable the reward. Sorare makes use of so-called player tiers.
Player tiers
Tiers categorise players according to their current market value. The most valuable ones make up the Star tier. These include heavyweights such as Kylian Mbappé or Robert Lewandowski. They are followed by Tiers 1, 2 and 3 in descending order of value.
Buying and selling players
The marketplace is where you can buy, sell and trade player cards in Sorare. It is divided into two main parts: Auctions feature new cards that have been freshly created by Sorare and are now being given out to managers. The winners of such eBay-like auctions are therefore the first owners of the player cards.
Manager sales, on the other hand, represent a typical secondary market. Not Sorare, but other managers put their NFT cards up for sale, which they have previously acquired or won themselves. The seller sets any reference price, but interested parties can also make individual offers (player cards and/or ETH).
A third possibility is Direct Offers to other Sorare managers. In the same way, offers can be made for player cards that are not even offered on the marketplace.
Sorare tools and resources
There is great competition for the coveted prizes at Sorare. To maximise their chances of success, the best managers use a variety of resources. Our own tool prorare, for example, helps you to easily evaluate your financial performance at Sorare – giving you a real strategic advantage.
In the following overview you will find the most important Sorare tools, websites and communities at a glance to stay one step ahead of other fellow Sorare fantasy football managers.
Now we wish you lots of fun and success while playing. We hope that our Sorare Guide has answered your most important questions and provides a good starting point. Don't forget to register via the button below to get your free bonus card.

Max is co-founder of inside NFTs. After graduating in economics in Frankfurt am Main (Germany) and New York (USA), he pursued a career in commercial aviation. Nonetheless, he retained his long-standing interest in blockchain technology and thus came across non-fungible tokens in early 2021. Ever since, he has been passionately writing guides and articles about Sorare and other NFT projects.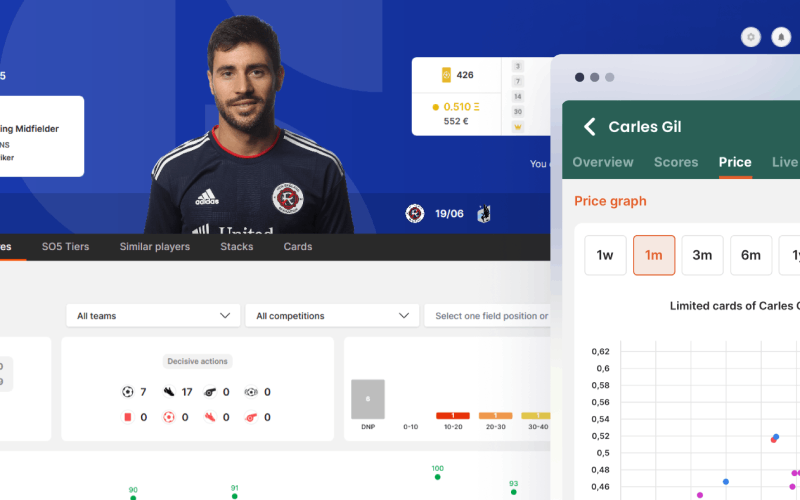 Get to know the best Sorare tools and resources! ✓ SorareData ✓ prorare ✓ Sorare Communities ✓ SorareBrag ✓ and many more